Winter has arrived. Like it does every year whether we are ready for it or not. To help make winter better, I took some traditional winter flavours and put them into a cake because everyone loves cake. After a little work, I got my recipe for Cranberry Orange White Chocolate Cake perfect.
Cranberry Orange White Chocolate Cake:
I'm not sure about you, but I can usually only find fresh cranberries a couple of times a year; Thanksgiving and Christmas. Since this recipe does require fresh, it will be a seasonal treat for when the weather starts to turn cold. The other elements for this cake, oranges and white chocolate, are easy to get your hands-on. For the white chocolate, you can use just about anything, but the better the quality, the better the flavour. I have made this cake with regular white chocolate chips, so don't feel like you need to go out and splurge on the chocolate.
The final touch to this lovely cake is the Turbinado sugar sprinkled across the cake's top before baking. This gives the cake a lovely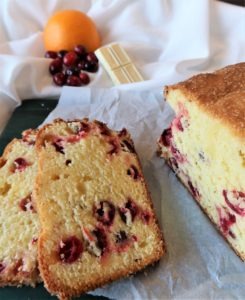 crust that is crunchy and sweet. It is just a super easy recipe for a cake that looks and tastes fantastic. I know that a lot of people slather the tops of their cranberry loaves with cream cheese frosting, and you could if you want, but I love the simplicity of this cake.
I crave this loaf. I will most likely be making this a couple more times this year and any other time that I can get my hands on fresh cranberries. It has been a family favourite this season, so I am happy to share this recipe with you. Good luck and happy baking.
Other Recipes you may like:
Perfect Pecan Pie Shortbread Cookies
Cranberry Orange Walnut Biscotti
Cherry Almond Oat Shortbread Cookies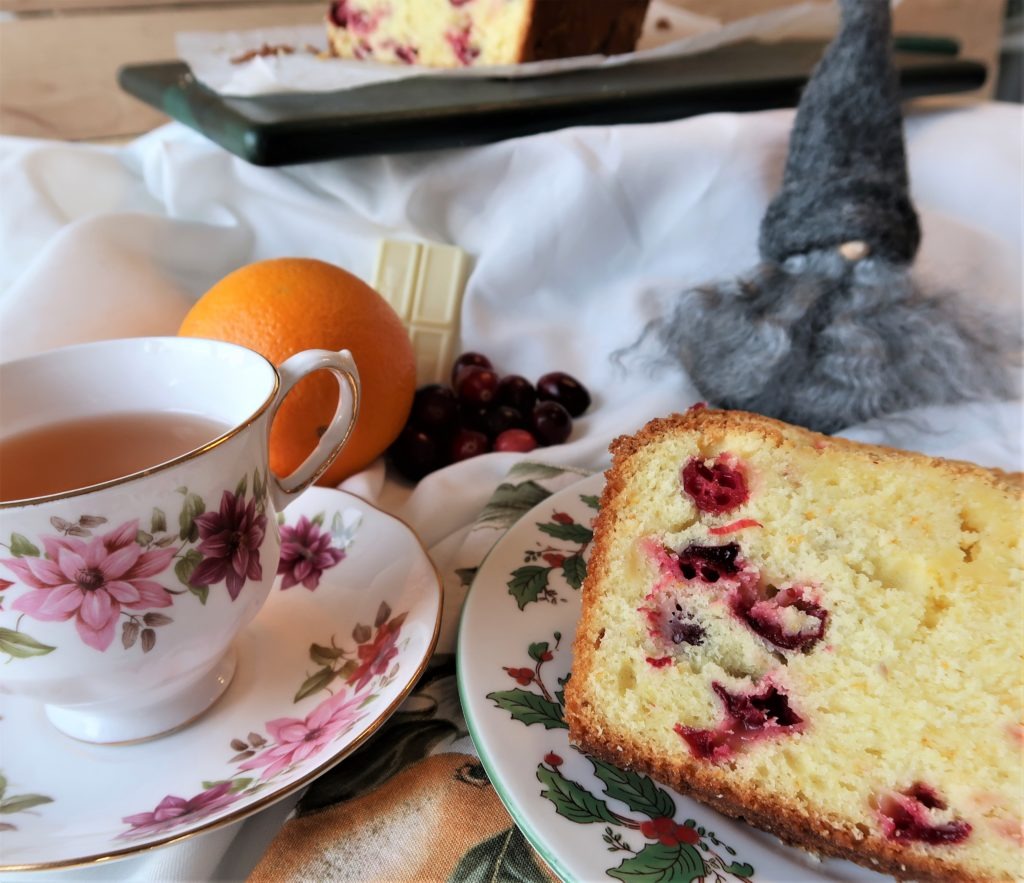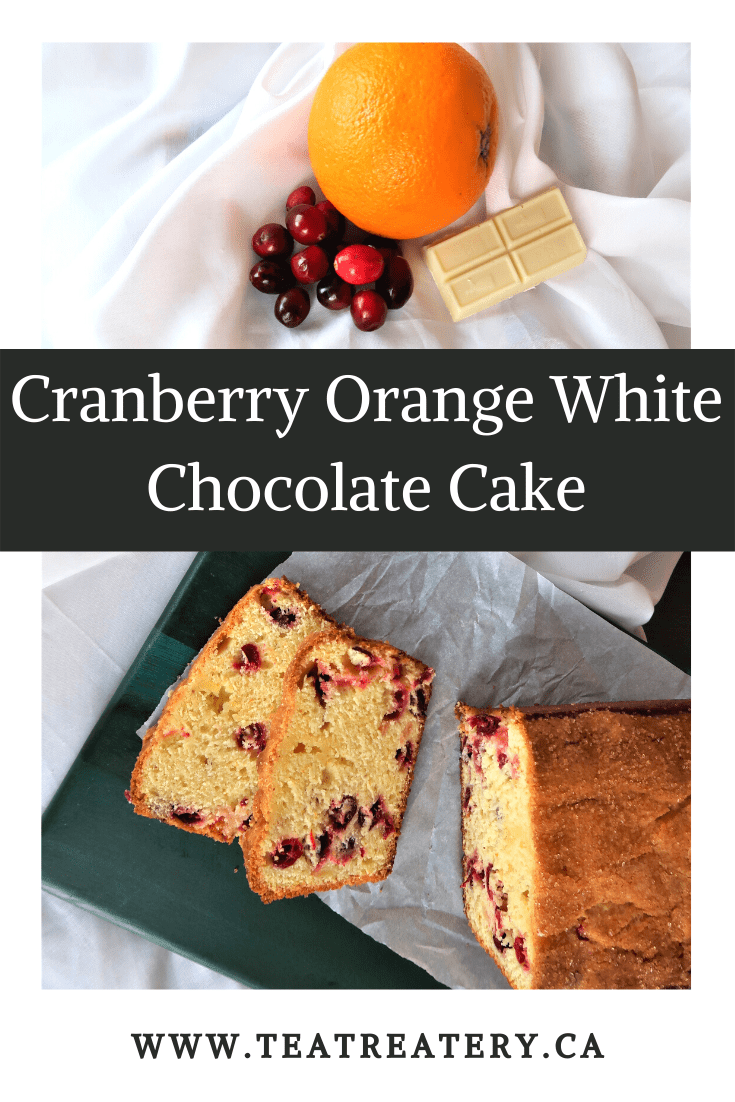 Print Recipe
Cranberry Orange White Chocolate Cake
A delicate cake made with the stunning flavours of tart cranberries, tangy oranges, and sweet white chocolate to make the perfect dessert.
Ingredients
1/2cup (135g) butter

1 cup (200g) sugar

zest of an orange + 2 tbsp orange juice

1/2 cup (90g) white chocolate chips

1/4 cup milk

2 eggs

2 cups (300g) flour

2 tsp baking powder

1 1/2 cups cranberries cut in half

Turbinado Sugar
Instructions
1
Heat oven to 350℉ and grease a loaf pan.
2
In a small bowl, whisk together flour and baking powder. Set aside.
3
Cut cranberries in half, but if they are small enough, leave whole.
4
In a large bowl or the bowl of your mixer, beat together butter, sugar, and orange zest until light and fluffy.
5
While the mixer is running, measure out your milk and add the orange juice to it. This will curdle the milk, but it will give the cake a lovely flavour.
6
Melt white chocolate* and beat into the butter and sugar mixture.
7
Add in eggs one at a time, mixing well after each addition.
8
Once the eggs are completely incorporated, add in a third of the flour and continue mixing.
9
Add in half of the milk and continue mixing.
10
Continue adding flour and then milk until it has all been added; you want to finish off with the remainder of the flour.
11
After everything is mixed thoroughly, fold in the cranberries with a rubber spatula or a wooden spoon.
12
Scoop the batter into the prepared loaf pan, gently pushing the batter into the corners of the pan. Sprinkle the top of the cake generously with turbinado sugar.
13
Place pan in the oven and bake for 50-60 minutes—test doneness by inserting a toothpick into the centre of the cake.
14
Let cool for 10 minutes in the pan, after which you can turn out onto a cooling rake. Cool completely before cutting.
15
Store in an airtight container for up to a week.
Notes
* I do this in the microwave putting it in for 20 seconds at a time and stirring after each interval until all the chunks are gone.