When I was younger, I disliked shortbread. I didn't like the taste, though I'm pretty sure it had everything to do with the fact that I had a huge sweet tooth. Since shortbread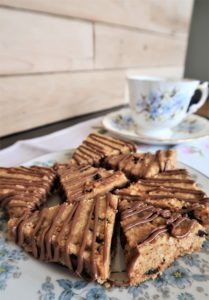 cookies aren't that packed sugar they didn't suit my tastes. As an adult, I have come to really love the stuff, so I make them as often as I can. My kids seem to have not inherited my love of overly sweet things.  This means that they don't seem to mind eating shortbread cookies. I found, in one of my many baking books, a recipe for oat shortbread. I wanted something with a little more flavour, so I came up with this recipe for Cherry Almond Oat Shortbread Cookies.
Shortbread Cookies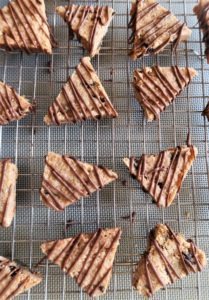 Shortbread dough is relatively easy to whip up, and it doesn't contain any eggs. If you are more inclined to the vegan or vegetarian way of life, you can replace the butter for one of the vegan butter substitutes. The dough for these cookies is pretty wet and sticky, so it is baked in a sheet pan and then cut into bars after it's done baking. I highly recommend that you cut the cookies before it cools completely. Once they have cooled they will crack and break when you try to cut them. I use a jelly roll pan, but you can easily use two 8 inch square pans.
Dried cherries are a little on the larger size, so I like to chop them up a little so the cookies are easier to cut when they come out of the oven. You don't want to cut the cherries too small because they will dry out in the oven and become gummy. I like to drizzle some melted milk chocolate over the top of the cookies to add just a touch of sweetness, but they still taste fantastic on their own.
I love these Cherry Almond Oat Shortbread Cookies, and will probably make them often. They are the perfect shareable cookie and the best addition to afternoon tea. I hope you all love these cookies as much as I do. Good Luck and Happy Baking.
Please don't forget to comment below and let me know how the recipe turned out for you. You can also follow me on Instagram or Facebook to see what's happening in my kitchen.
Other recipes you may like:
Lavender Lemon Shortbread Cookies
Raspberry Almond Shortbread Cookies
Orange Cardamom Blossom Cookies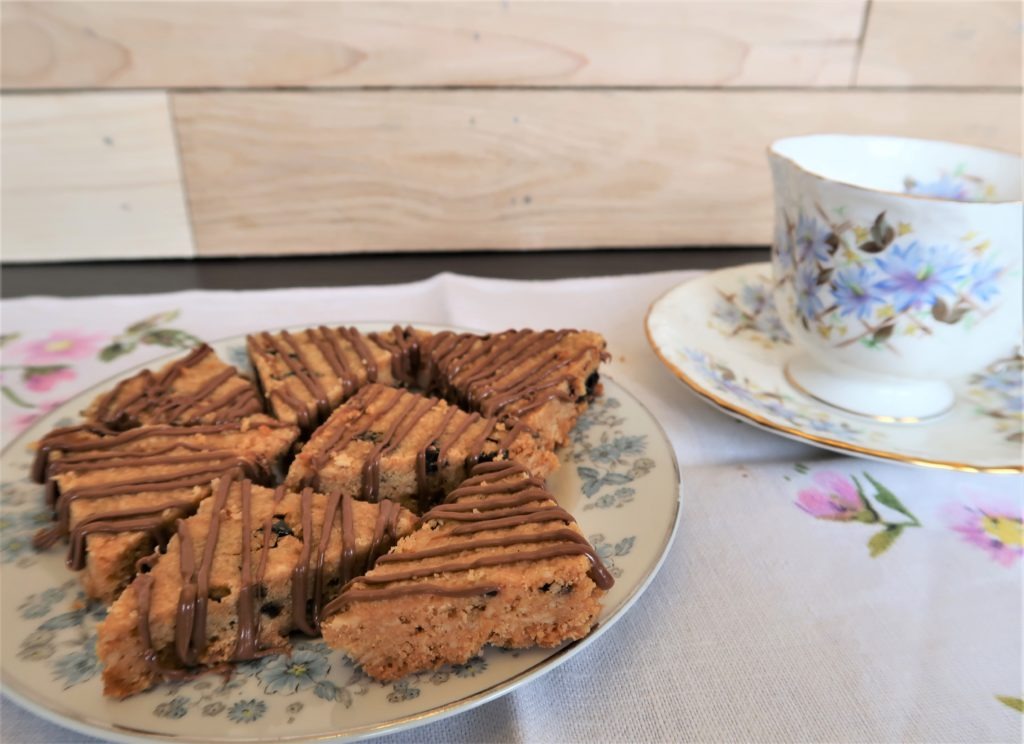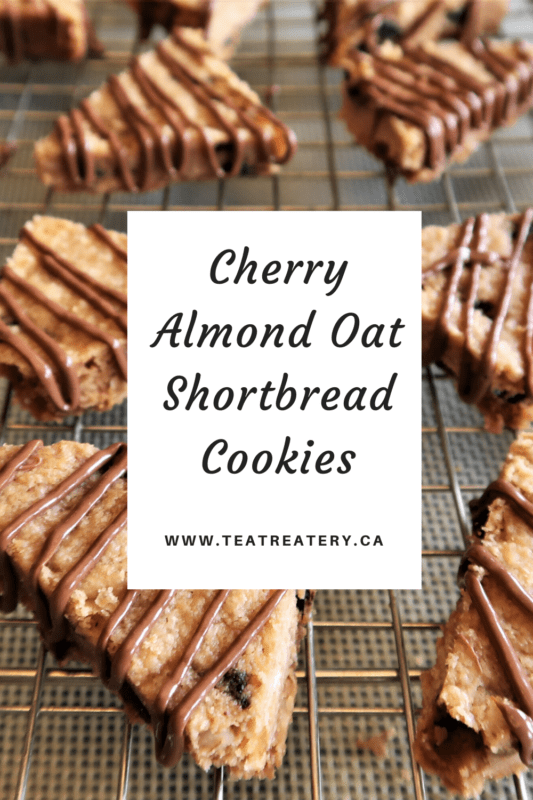 Print Recipe
Cherry Almond Oat Shortbread Cookies
Flavourful shortbread cookies that will have you coming back for more.
Ingredients
1 cup (250g) butter at room temperature

1 cup (100g) oats

1 cup (165g) flour

1 cup (100g) ground almonds

1 tsp salt

1/4 cup (50g) brown sugar

1/2 cup (70g) icing sugar

3/4 cup (100g) dried cherries chopped

1/2 tsp almond extract
Instructions
2
Grease either a jelly roll pan or two 8 inch square pans
3
Pulse together the oats and the almond flour in a food processor until it is a coarse flour. Empty into a bowl and add in the flour whisking until all mixed together.
4
Beat together the butter, salt, brown sugar, icing sugar, and almond extract until creamy.
5
Slowly add in the flour mixture. once half the flour has been added mix in the cherries and then continue to add in the remaining flour.
6
Place dough into the pan (or pans) and push down with a spatula getting the dough into the corners.
7
Use a fork to mark the dough where you will be cutting the cookies later
9
Let the cookies cool slightly in the pan before flipping it out onto a cutting board. Cut into whatever shape you desire.
10
If you are drizzling with melted chocolate* let the cookies cool completely.
Notes
* Microwave milk chocolate chips for 15-second intervals, stirring in between, until chocolate has melted. Place melted chocolate into a piping bag or a sandwich bag to making drizzling easier.