I get it. Pecan pie is a super sweet dessert, and shortbread is not, but I've managed to take the flavours and make a delicious cookie. I would love to say that my kids love these cookies, but my daughter refuses to eat anything with nuts. I love them, and my two boys love them (even the two-year-old). In fact, I usually end up eating four or more at a time. It has a beautiful balance of sweet and salty, soft and crunchy. I just think it's the best cookie I have made. Try my Pecan Pie Shortbread Cookies and see for your self.
Shortbread Dough:
This is one of my favourite types of dough to work with because it is rolled into a log and then placed into the fridge for two or more hours. Since it is a chilled dough, it could be made ahead of time and sliced and baked when you are ready for them. Shortbread is also a cookie that doesn't have any eggs in them, and the other ingredients are relatively common ones. It's a simple recipe that you can tailor to your tastes.
The Tasty Bits:
For these cookies, I finely chop pecans and use toffee bits to add flavour. Cinnamon is another crucial flavour for these cookies. I buy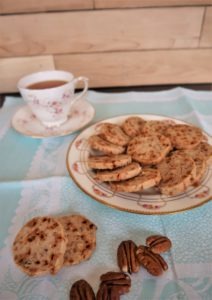 my cinnamon from Silk Road Spice Merchants. I find that it has a charming flavour and is very fragrant. The toffee bits I usually get at my local bulk store, but you could buy the brand named Skor bits. The toffee does melt during baking but gives the cookies a lovely texture. If you do want to add a little extra sweetness to the cookies, you can dip or drizzle the cookies with melted chocolate, but I like them just as they are.
These Pecan Pie Shortbread Cookies are the perfect quick and easy recipe for your family or gathering. I hope that you love these cookies as much as my family and I do. Good Luck and Happy Baking.
Comment below and let me know how these cookies turned out for you. Don't forget to Follow me on Instagram and Facebook to stay up to date on what I'm doing in my kitchen.
Other recipes you may like:
Cherry Almond Oat Shortbread Cookies
Christmas Sprinkle Shortbread Cookies
Orange Cardamom Blossom Cookies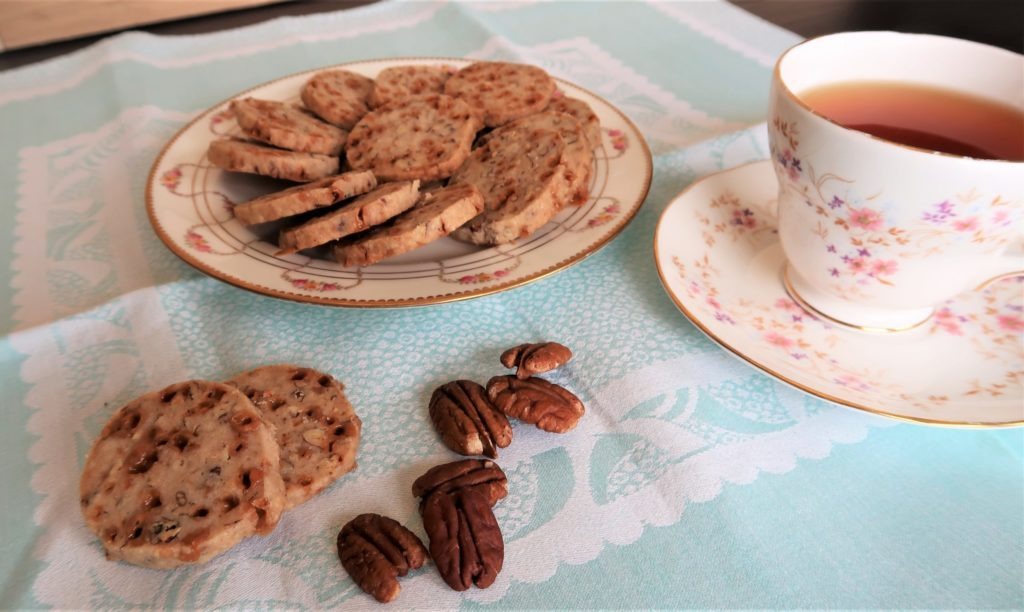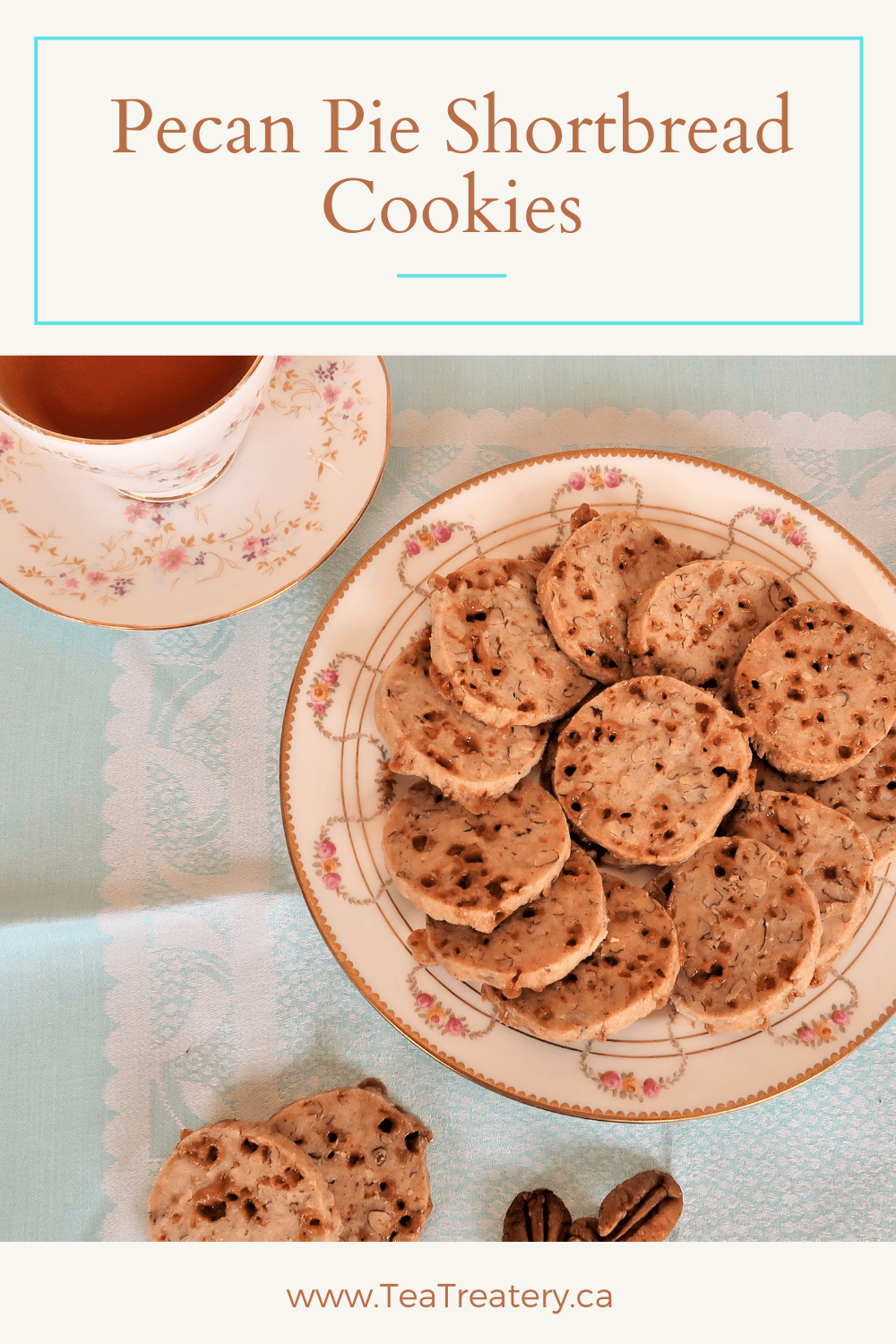 Print Recipe
Pecan Pie Shortbread Cookies
The perfect balance of sweet, and salty, of soft, and crunchy. This recipe for Pecan Pie Shortbread Cookies makes to most perfect cookie.
Ingredients
1 cup (220g) butter

1/2 cup (100g) icing sugar

2 tbsp brown sugar

2 cups (300g) flour

1/2 tsp salt

1 1/2 tsp cinnamon

1 cup pecans

3/4 cup toffee pieces
Instructions
1
Chop pecans finely, set aside.
2
In the bowl of your stand mixer (or a large mixing bowl), beat together butter, icing sugar, and brown sugar.
3
Sift together flour, salt, and cinnamon. Add the flour mixture to the mixer bowl.
4
Add in pecans and toffee pieces.
5
Mix until flour is completely incorporated.
6
Knead by hand until you have a ball of dough. Divide dough in half. Roll each half into a log so that you have a diameter of about an inch and a half.
7
Wrap each log in plastic and refrigerate for at least *2 hours.
9
Line two baking pans with parchment paper
10
Remove one dough log from the fridge and slice 1/4 inch (8mm) thick. Place sliced cookies on the prepared pan, leave at least 1/2 an inch of space between each cookie. These cookies don't spread much.
11
Bake for 15-20 minutes, or until the bottom edge is golden brown.
12
Transfer to a wire rack to cool.
13
Repeat for the second dough log.
14
Store in an airtight container. Because the cookies don't contain eggs, they do keep for quite a while.
Notes
* you can keep them in the refrigerator for a day or two if needed.