The cold weather and the falling leaves make me want warmth and comfort. To me, one of the most comforting fall ingredients is apple and cinnamon. I wanted to make an easy apple cake that my kids could take to school with them, so I came up with my Apple Spice Tea Cake.
Apple Spice Tea Cake: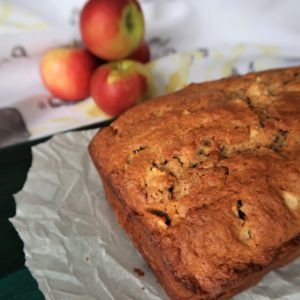 For this cake to turn out, the apple is the important thing. I tried a couple of different apples before I figured out the perfect flavour. I recommend Honey Crisp. It is the one that had the best flavour profile. It has a strong flavour, it has some tartness, and they keep their shape when cooked.
I want to discuss the importance of finding quality sources for spices. Most of us buy ours from the grocery store, but it's hard to tell how long those bottles have been sitting on the shelf and in storage. I'm not sure if you are aware, but spices will lose flavour as they get older. So it becomes important to find fantastic sources for quality spices. The internet is a wonderful place for this. The one place I go to for my spices is The Silk Road Spice Merchant.
Topping the Cake:
I have topped this tea cake with a browned butter frosting. I love browned butter; it has an interesting flavour,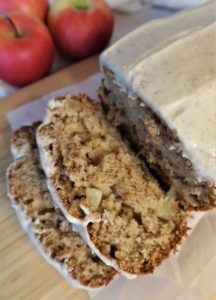 something nutty and caramel-ly. Browned butter is pretty simple to make, but it can burn really quickly, so make sure you keep an eye on it the entire time. If you want to forgo the sweet frosting, I recommend sprinkling the top of the cake with Turbinado sugar; it will give you a very nice crunchy texture.
Through all my trials and errors while making this cake, my family and I devoured it. I can say with certainty that you will love this cake, and it is a pretty easy recipe. Good luck and happy baking.
As a recipe writer I always look forward to seeing how well my bakes turn out for others, so comment below and let me know if you like the cake.
If you want to know what projects I'm working on, follow me on Facebook or Instagram.
Other recipes you may enjoy:
Delicious Sticky Toffee Pudding
Apple Crisp: A Family Favourite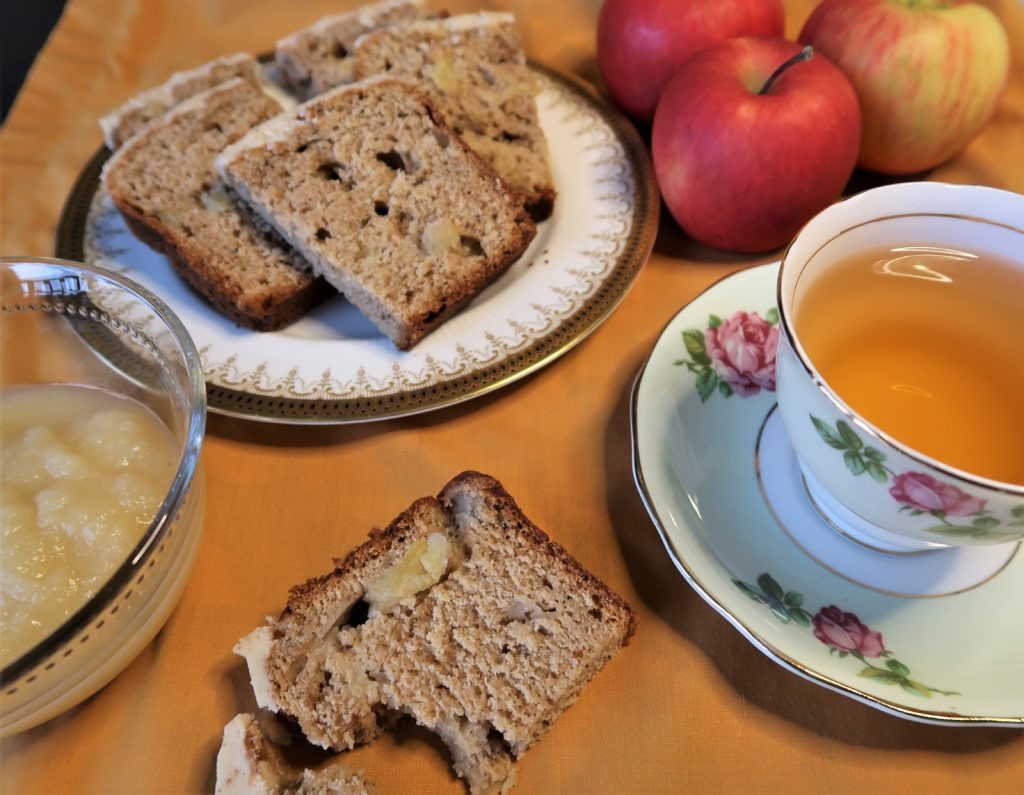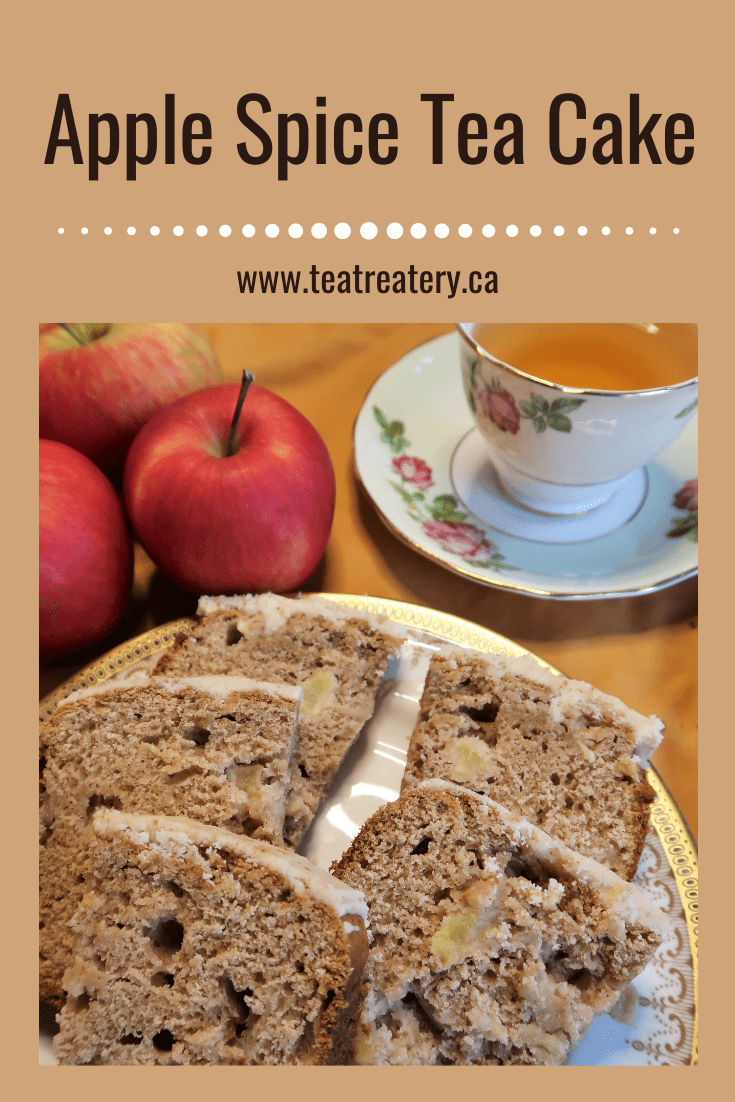 Print Recipe
Apple Spice Tea Cake
This Apple Spice Tea Cake is the perfect spice cake packed with tart apples topped with sweet frosting. The perfect cold-weather comfort food.
Ingredients
1/2 cup (125g) butter

1/2 cup (120g) brown sugar

1/4 cup (55g) sugar

1 tsp vanilla

2 eggs

1/4 cup (60g) apple sauce

1/4 cup sour cream or plain greek yogurt

2 cups (300g) flour

1 1/2 tsp baking powder

1/2 tsp baking soda

1 tsp cinnamon

1/2 tsp nutmeg

1/4 tsp cloves

1/4 tsp ginger

2 medium Honeycrisp apples ( about 1 1/2 cups)

Frosting

1/4 cup browned butter, cooled to room temperature

1/2-3/4 cup icing sugar
Instructions
1
Heat oven to 350℉ and grease a loaf pan.
2
Peel and chop two medium Honeycrisp apples.
3
In a medium bowl, whisk together flour, baking powder, baking soda, and spices. Set aside.
4
In a small bowl, mix the apple sauce and greek yogurt (or sour cream). Set aside.
5
In a large bowl or the bowl of your stand mixer, beat together butter and sugars until it is light in colour and fluffy.
6
Add in vanilla and eggs one at a time, making sure to mix between each addition.
7
Add half the flour mixture to the large bowl and mix until incorporated.
8
Add in the apple sauce and yogurt mixture and continue to mix.
9
Once everything is mixed in, add the remaining flour and beat until you have a smooth mixture.
10
Fold in chopped apples trying to spread the apples evenly throughout the batter.
11
Put batter into your prepared pan and bake for 45-55 minutes or until a toothpick comes out clean when inserted into the middle. Let cool.
12
Frosting To make browned butter, melt butter in a small saucepan over medium-high heat until the milk fats start to brown.
13
Place browned butter into a bowl and let it cool to around room temperature.
14
Mix in enough icing sugar, so the frosting is still thin enough to spread easily but not so that it drips when you frost the cooled cake.
15
For the frosting to set, place the cake in the refrigerator, but I like to eat it while the frosting is still warm and gooey.