Fall just wouldn't be the same without pumpkin and pumpkin spice. There are the typical baked goods that we are all used to, pumpkin scones, pumpkin pie, and even a pumpkin loaf, but I wanted to do something a little different. I came up with this recipe for Pumpkin Rugelach because I wanted a new tasty treat that wasn't super sweet.
Pumpkin Rugelach:
Now I know that these little things look like crescent rolls or even croissants, but these are a breed of their own. Rugelach is a popular Jewish pastry that originated in Poland. The dough doesn't contain a lot of sugar and mainly consists of butter, cream cheese, and flour. After a cooling period, the dough is rolled out into a circle, the filling is spread, and then the dough is cut like a pizza. I actually used my pizza cutter for this job, and it worked so well. Each triangular slice is rolled like you would a croissant. Just before they go in the oven, you'll be giving them a quick milk wash and sprinkling with Turbinado sugar.
The Filling:
For the filling for these cookies, I use pumpkin puree and the typical pumpkin pie spices, but you can use pumpkin pie filling if you want; just skip adding the spices. The dough can be used with other fillings like Hazelnut Chocolate spread, cinnamon paste, and many others. Don't feel like you have to do pumpkin every time. Just remember that when you roll the cookies to make sure the little tip is underneath, or it will unravel during the backing process.
Trim edges of the dough so that it roughly resembles a circle. Spread a thin layer of filling on the dough
My whole family loves these cookies, even my picky daughter. They make the perfect lunch snack or holiday treat. I'm positive that these cookies will become one of your go-to treats. Good luck and happy baking.
Other recipes you may enjoy:
Incredible Soft Pumpkin Cookies
Delicious Fluffy Pumpkin Waffles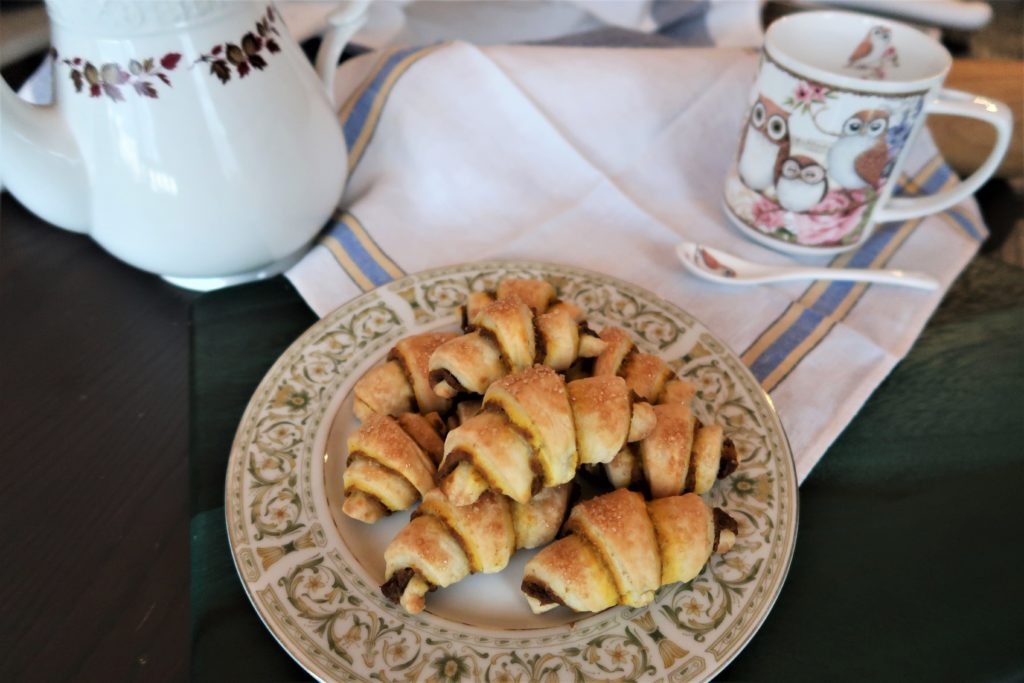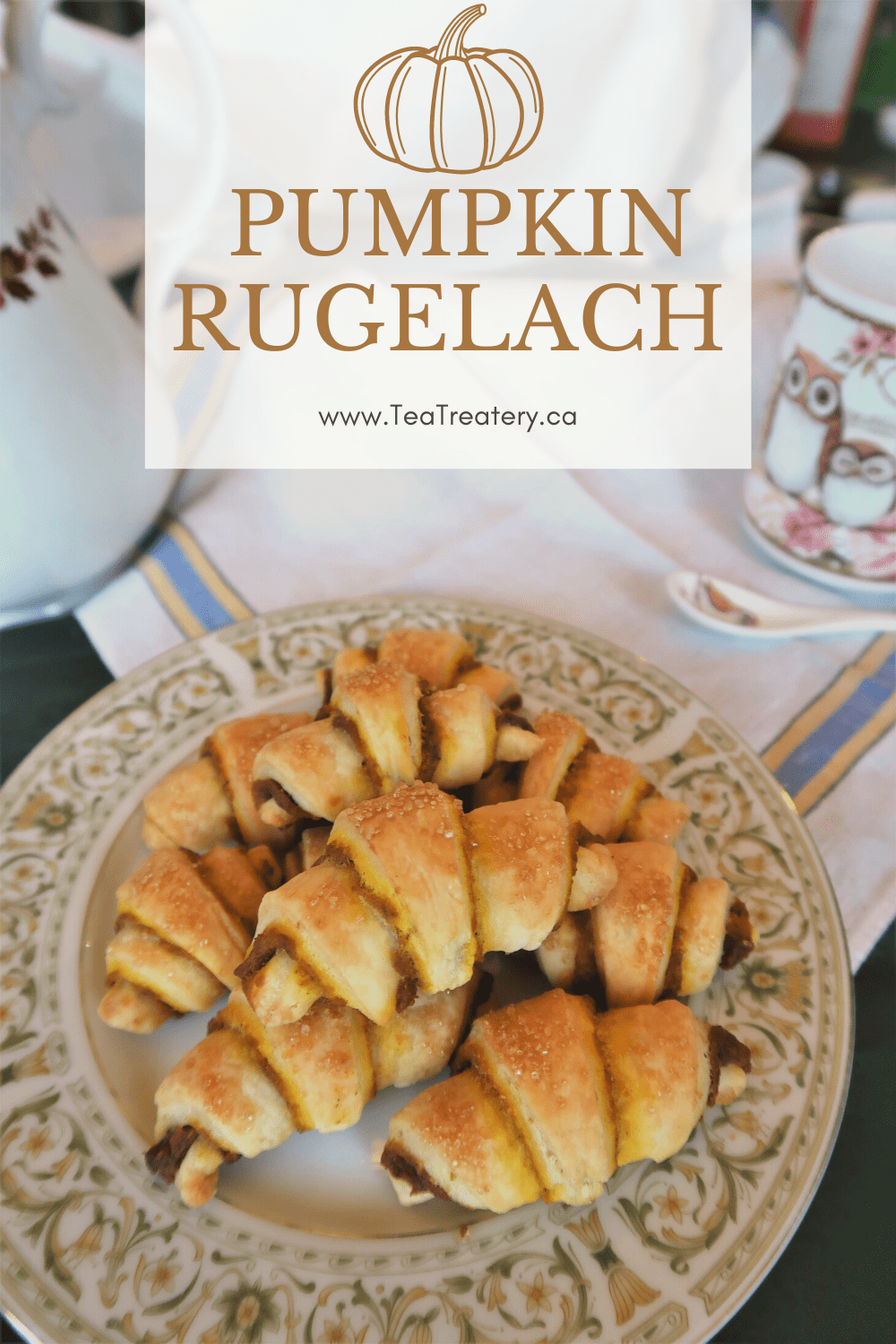 Print Recipe
Pumpkin Rugelach
A delicate pastry filled with the comforting fall flavours of pumpkin and spice that will be a tasty treat all year.
Ingredients
Dough

1 cup + 2tbsp (230g) butter

1 package (8oz) cream cheese

3 tbsp sugar

2 cups (300g)

Pumpkin Filling

1 cup (250g) pumpkin puree

3 tbsp (45g) brown sugar

1/2 tsp cinnamon

1/4 tsp ginger

1/4 tsp cloves

1/4 tsp nutmeg
Instructions
1
Dough: In a large bowl or the bowl of your stand mixer, beat together butter and cream cheese until it is a smooth consistency. Remember to scrape down the sides of the bowl to make sure everything gets mixed in well.
2
Mix in sugar. Once incorporated, add in the flour.
3
Continue to mix until you have a smooth dough that will be a little sticky.
4
Scrape the dough out onto a piece of cling wrap and form dough into a disc before wrapping. Place wrapped dough into the fridge for at least two hours, but overnight would be better.
5
Filling: In a small bowl, mix all the ingredients and set aside.
6
Assemble: Heat oven to 350℉ and line two baking pans with parchment
7
Take the disc of dough out of the fridge and divide it into three equal sections (I usually use a scale for this).
8
Roll out one section at a time until it is about the thickness of a quarter.
9
Using a sharp knife or a pizza cutter, cut the rough edges off to create a circle that is approx. 11 inches in diameter.
10
Spread a thin layer of filling on the dough and cut it into 16 triangular pieces.*
11
Roll each triangle from the wide end towards the thin.
12
Curve slightly and place on a parchment-lined baking sheet. make sure that the pointy tip of the rolls are tucked under.
13
Brush the top of the rugelach with milk and sprinkle with Turbinado sugar
15
Repeat for the remaining two sections of dough.
16
Store in an airtight container for up to two weeks.
Notes
* Even cutting with a pizza cutter you will have different sized cookies and that's fine. You will just have a couple of stubby ones.