Now that the cold weather has arrived, my body has shift gears into the all too familiar instinctual behaviour of building up some body-fat to fight the coming cold. Well, it's what I tell myself anyway. For me, chocolate cake is the best cold-weather comfort food.
Every once in awhile, I get this overwhelming craving for chocolate cake. So the other morning, when this all too familiar craving hit, I dug out my one of my old cookbooks to hunt down an easy recipe. After a couple of changes, I adapted the recipe to come up with, in my opinion, the Best Chocolate Cake Tray-bake.
Chocolate Cake:
One of the first changes I made was to substitute the water with coffee. You can add coffee in two different ways. The first is to use a strong brewed coffee, but I don't drink the stuff, so I went for the second way. The second option is to use a quarter cup of instant coffee added to the water.
Another change I made was to use Hersey brand cocoa powder in place of the unsweetened stuff that the recipe requested. I also exchanged some of the granulated sugar for brown sugar. Brown sugar contains molasses, which will help create moisture within the cake. All of these changes contribute to making a moist cake that has a vibrant, rich flavour.
Recipe Development:
The original recipe I adapted for this cake came from my Better Homes and Gardens cookbook. I grew up with this red and white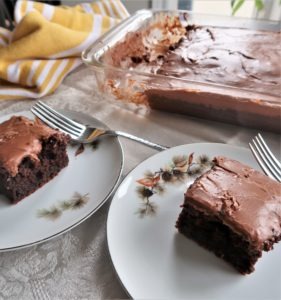 gingham covered book as one of the books my parents often used. When I got older and moved out, it was one of the first cookbooks I bought myself. The recipes are easy, and they always turn out well.
My family has fallen in love with this Chocolate Cake. Since I had to make the cake a couple of times, my husband had to give away some of the cake to save himself from eating it all.  I am pretty confident that you and your family will enjoy this cake as much as we did. Good luck and happy baking.
Please comment below and let me know how the cake turned out for you.
Follow me on Facebook and Instagram to keep up to date on what I'm working on in my kitchen.
Other recipes you may enjoy:
Delicious Sticky Toffee Pudding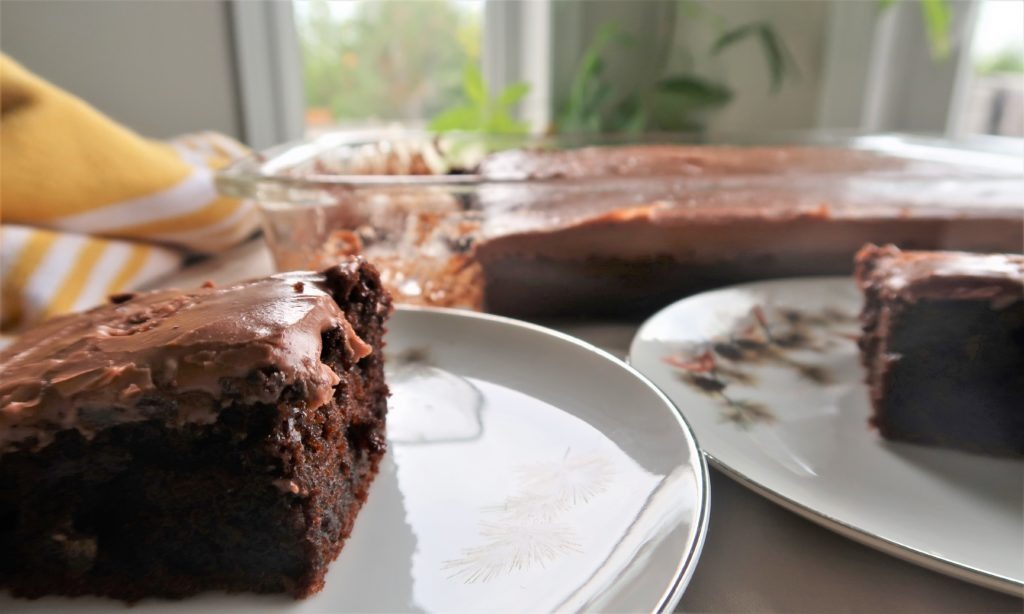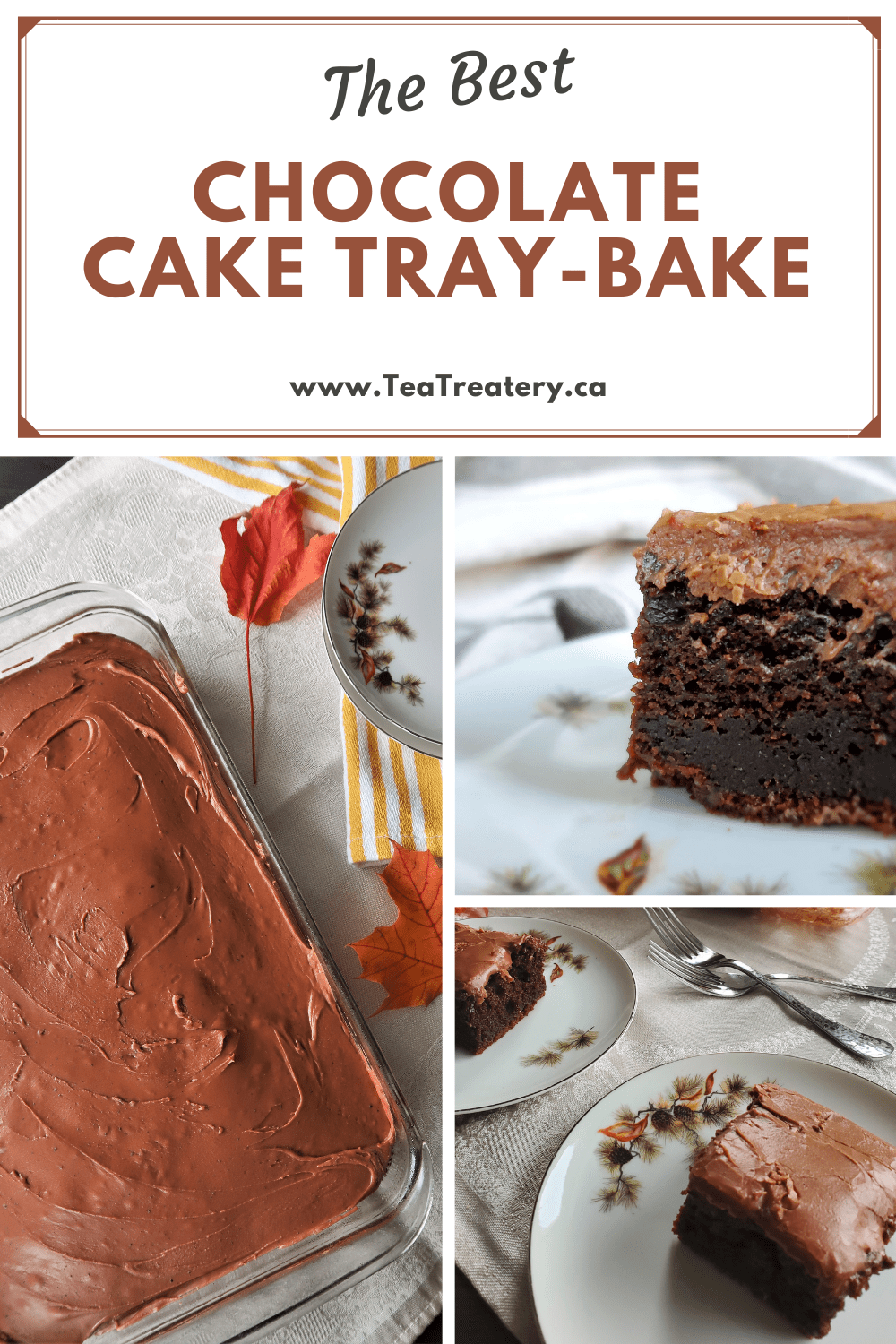 Print Recipe
The Best Chocolate Cake Tray-bake
The best recipe for an incredibly moist and rich chocolate cake that is simple to make and even easier to devour.
Ingredients
Chocolate Cake

2 cups flour

1 1/2 cups sugar

1/2 cup brown sugar

1 tsp baking soda

1/4 tsp salt

1 cup butter

1/3 cup Hersey brand cocoa powder*

1 cup water

1/4 cup instant coffee**

2 eggs

1/2 cup sour milk (or buttermilk)

1 1/2 tsp vanilla

Chocolate Frosting

1/4 cup butter

3 tbsp dutch processed cocoa

3 tbsp milk

2 1/4 cup icing sugar
Instructions
1
Grease a 9x13 pan and heat oven to 350℉.
2
In the bowl of your electric mixer or a medium bowl, whisk together flour, sugars, baking soda, and salt. Set aside.
3
In a saucepan, heat butter, water, instant coffee, and cocoa powder. Bring to a gentle boil.
4
Pour chocolate mixture into the bowl with the flour and beat on medium-high speed until everything is combined.
5
Add in eggs, milk, and vanilla. Continue mixing for another minute or two; the batter will be thin.
6
Pour batter into your prepared pan and bake for 30-35 minutes. The cake should spring back when gently touched.
8
In a small saucepan, heat together butter, cocoa, and milk until it comes to a boil.
9
Pour chocolate mixture into a mixing bowl and add the icing sugar.
10
Mix well until sugar has dissolved.
11
Spread frosting onto the warm cake, cut, and serve.
Notes
*You can use any natural cocoa but I really like the Hersey brand **You can use a strong brewed coffee instead of the cup of water