This website is a participant in the Indigo Affiliate Program, which allows it to earn commissions from Indigo if you make a purchase on indigo.ca after linking through this website.
Bon Appetit is a magazine that has been around for a while, so they know what they're doing. I have read their magazines, watched their YouTube videos, and own their dessert cookbook. They have a test kitchen where they work on recipe development, so you know that their recipes will be perfect.
I have owned Bon Appetit Desserts for a couple of years now. It is one that I will flip through from time to time for either inspiration or if I want to try something new. I have pieces of paper, sticky tabs, and even pieces of napkin poking out of the book. My little bookmarks let me know what recipes I have tried and what I'd like to try. There are even a couple of pages that stick together from some messy bakes – oops.
The Dessert Cookbook:
The recipes are divided into categories ranging from cakes, cookies, pies & tarts, frozen desserts, etc. Within each category, the recipes have a whisk rating. One whisk rating means that it is a fairly easy recipe. For the expert bakers, the recipes receive a four whisk rating. The cookbook's front section is dedicated to information on pantry items, equipment explanations, and some baking tips.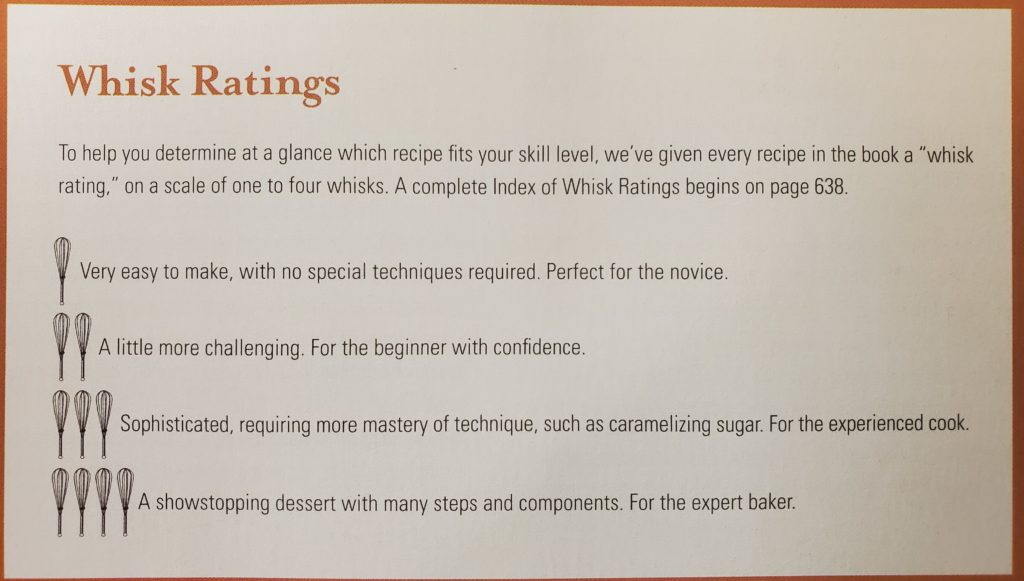 The recipes are easy to read, which makes replicating them a breeze. I normally prefer cookbooks that have pictures, so I know what the finished product looks like. This book has some pictures, but not many, and I don't see that as a bad thing. It is important to read recipes before starting a bake. For more hints about getting new recipes to succeed, check out my Baking Basics post:  Tips for Trying New Recipes and Having Them Succeed.
I highly recommend this cookbook. It is for those that are looking to improve their baking skills and can see themselves baking often. If you are looking for a dessert cookbook, then this book is for you.
Recipes I enjoyed:
Carrot Cake with Buttermilk Glaze and Cinnamon-Cream Cheese Frosting (This is one of my favourite Carrot Cake recipes; it is incredible).
Semisweet Chocolate Layer Cake with Vanilla Cream Filling
Maple-Walnut Pound Cake with Maple Glaze
Langues-de-chat
If you are interested in Bon Appetit Desserts, then I recommend either clicking the picture at the top or the link below. This way, you will be supporting me and helping me to keep creating free content. I am not being paid to review this book; this is my true opinion on the cookbook and its recipes. Thank you.
*I realize that Indigo may not have every book I review in stock so if that's the case feel free to find the book where ever you can.

Bon Appetit Desserts: The Cookbook for All Things Sweet and Wonderful