Summer is wrapping up, and the hot days seem to be far behind us. I want to hold on to the warmth for as long as I can, so I am trying to bake with everything that reminds me of summer.
I love the idea of shortcakes sandwiching the bold flavours of strawberries and peaches. Shortcakes are such a versatile vehicle for any fruit or berry you want. I wanted something that the whole family would love that wasn't heavy or ladened with sugar. Having recently discovered some local honey at a Farmers Market, I knew I needed to use it, prompting me to make my Honey Shortcakes with Fresh Summer Fruit.
Honey Shortcakes:
While exploring the internet for shortcake recipes, I discovered that there were many ways of making them. Some recipes are for more of a biscuit-like shortcake, while others are like a pound cake. I knew I didn't want something that would get soggy from the juices from the fresh fruit. My shortcake recipe is a happy medium. It is firmer than a cake but still has a soft, airy texture inside.
There is very little sugar used in my shortcakes since I replaced most of it with honey. Heating the milk and honey together ensures that the honey is thoroughly dispersed throughout the cake. Heating the milk and honey also makes it possible to use either liquid honey or creamed honey, though I prefer liquid. The honey gives the cakes a wonderful flavour without making them too sweet.
Before these cakes go into the oven I like to top them with turbinado sugar, which is just raw sugar. It gives a satisfying crunch to a very soft and fluffy dessert.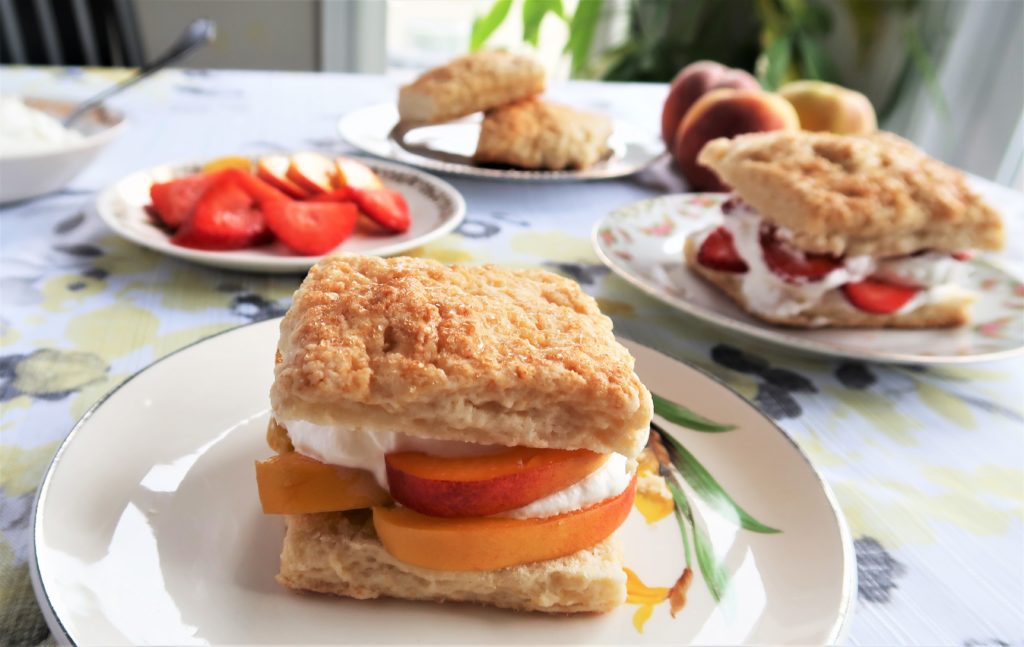 Summer Fruit:
The choices are endless. I love using soft, juicy peaches or ripe strawberries. To me, they have the most significant impact and works well with the shortcakes. Most of the flavours in this dessert are very subtle. From the whipping cream to the shortcakes themselves, so I find that using fruit that has a punch makes the dessert work the best. There is absolutely nothing stopping you from using whatever fruit or berry that suits your mood or tastes.
I really enjoyed eating these Honey Shortcakes with Summer Fruit this summer. My daughter really enjoyed eating the shortcakes on their own. I really hope that you enjoy these as much as my family did. Good luck and happy baking.
Don't forget to comment below and let me know how the recipe turned out for you. Let me know what fruit or berries you decided to use.
You can follow me on Instagram or Facebook to keep up to date on what I'm working on in my kitchen.
Other recipes you may enjoy;
Lemon Cream Tart with Gingered Strawberry Sauce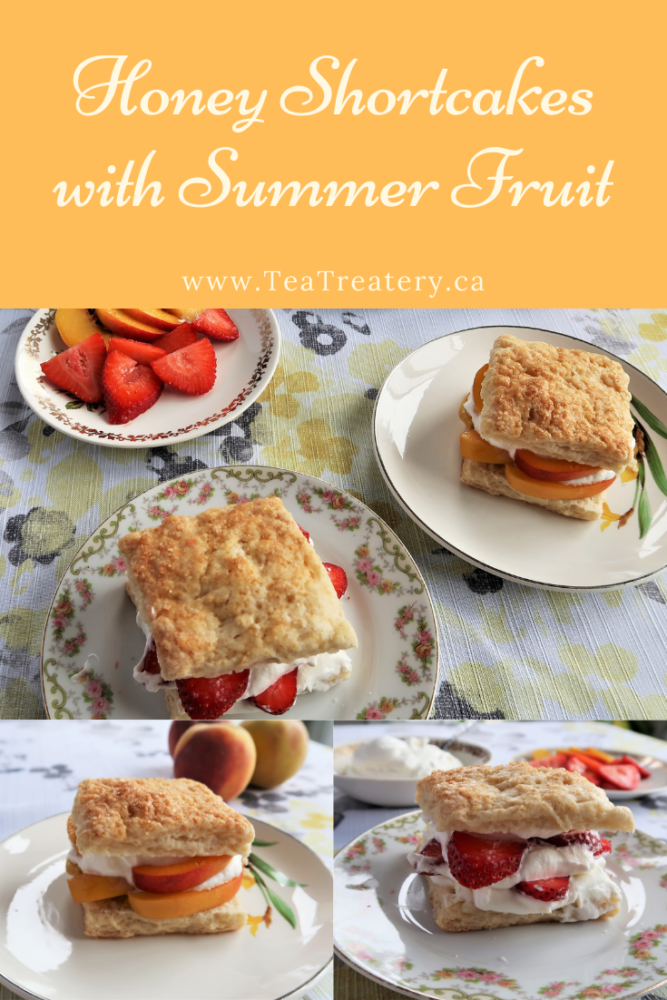 Print Recipe
Honey Shortcakes with Summer Fruit
Soft, tender shortcakes with the lovely flavour of honey. Summer is the star of this recipe for Honey Shortcakes with Summer Fruits.
Ingredients
3/4 cup whole milk

1/3 cup liquid honey

3 1/2 (525g) cups flour

2 tbsp baking powder

1 tsp salt

3/4 cup (165g) cold butter

1/3 cup sour cream or plain greek yogurt

Whipping Cream

Peaches

Strawberries
Instructions
1
Heat milk and honey in a small pot until honey had dissolved into the milk. Set aside to cool to room temperature.
3
In a large bowl, whisk together flour, baking powder, and salt.
4
Cut butter into cubes and add them to the flour mixture.
5
Using either two knives, a party blender, or your fingers, mix the butter into the flour until it resembles coarse crumbs.
6
Whisk sour cream or yogurt into the cooled milk and then add it to the dough.
7
Using a wooden spoon, mix the wet into the dry. Once it becomes too thick, knead the dough with your hand.
8
Turn dough out onto a lightly floured surface and roll it out into a square that is about half an inch thick.
9
Cut the dough 4x4 so that you have 16 square cakes and place them onto a parchment-lined pan.
10
Coat the tops with milk and sprinkle turbinado sugar over them.
11
Bake for 20-25 minutes. The top and bottom should be golden brown.
12
Let them cool completely before cutting the cakes in half.
13
Top with whipping cream* and fruit/berries.
14
Unused cakes can be saved for a up to two days in a sealed container. After that the quality is greatly reduced.
Notes
*I like to make my own whipped cream using a tbsp of liquid honey during the whipping process.