With summer comes the emergence of our giant rhubarb plant. I like to use what I have, so I try to find as many ways as possible to bake with rhubarb. Most of my family loves the stuff, but my daughter isn't the biggest fan of it. I wanted to find a dessert that used rhubarb but didn't taste strongly of it. This rhubarb apple tart recipe has a filing that mixes rhubarb with sweet apples. The mix of rhubarb and apples helps balance the tartness from the rhubarb. A little cinnamon for some spice doesn't hurt either.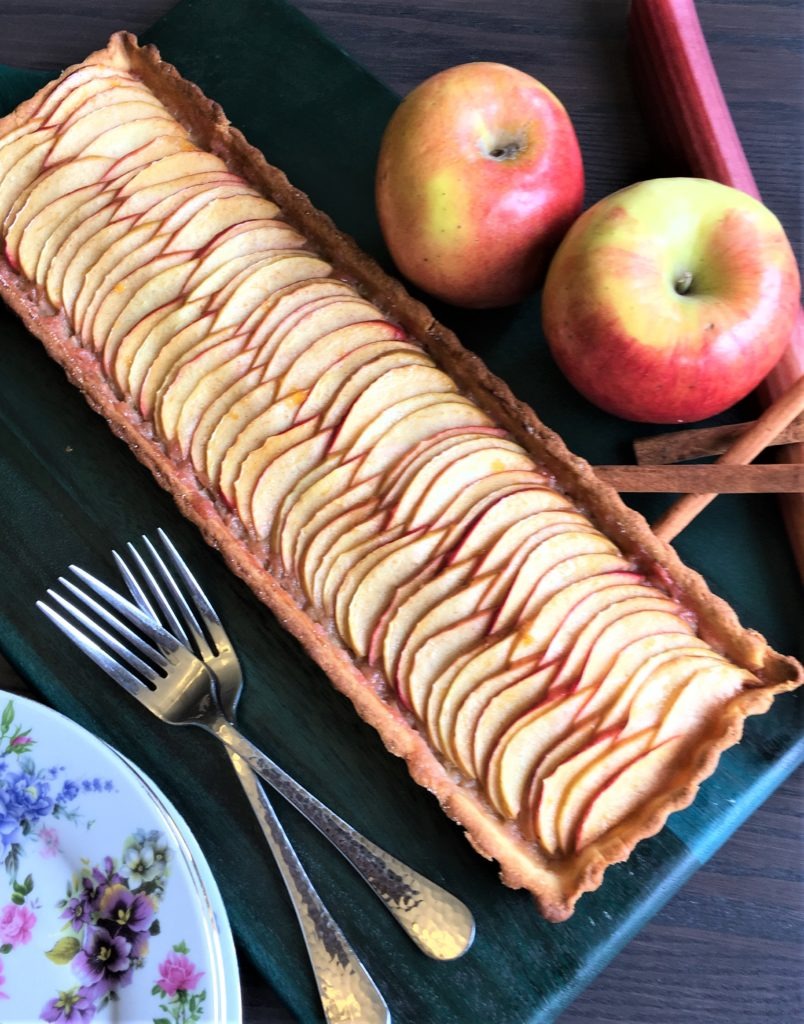 The Process:
It took me some trial and error to get the filling just right. I needed it to the point where everyone in the house could enjoy it. I would recommend this tart for anyone who either doesn't like rhubarb or has a hater in the family. I love using the shortcrust for this tart. It makes it light and helps reduce the sweetness of the filling.
I think it's important to remember that this crust is very delicate. When moving it from the counter to the tart pan, you need to be careful, or it will rip. If it does rip, it isn't the end of the world; you can quickly fix the cracks and tears.
For this rhubarb apple tart recipe, I use a rectangular tart pan, but you can use a circular one. The tart pan should have a removable bottom.
Rhubarb Love:
I love rhubarb; in fact, when I was a kid, my brother, sister, and myself used to pick it from the garden, dip it in sugar, and eat it like that. Not sure I could do it now, but I enjoyed it back in the day. So I will definitely be experimenting with more rhubarb recipes even if my daughter makes her disgusted face and rolls her eyes at me. The inspiration for this tart came from one of my The Great British Bake-Off cookbooks I have. It was for just an apple tart, but I wanted to us some rhubarb.
After the recipe, there are a few pictures to help with baking this delicious rhubarb apple tart. Good luck and Happy Baking.
Other recipes you might like:
Lemon Cream Tart with Gingered Strawberry Sauce
Cranberry Pear Frangipane Tart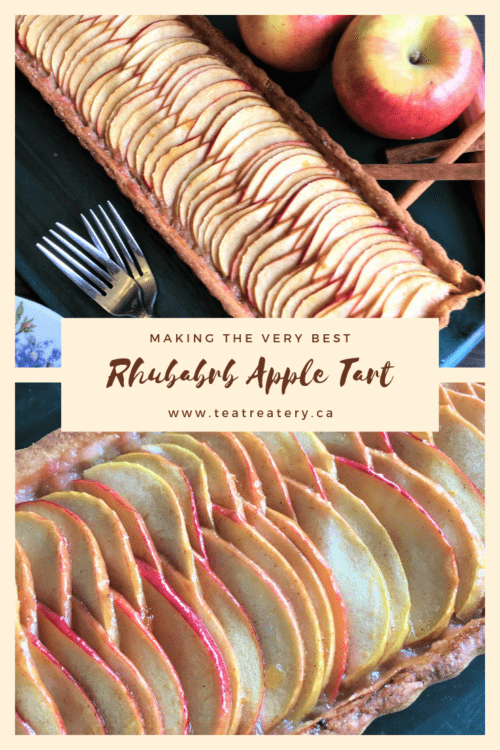 Print Recipe
Rhubarb Apple Tart
Sweet with just a touch of tartness makes this beautiful tart a stunning dessert for anyone
Ingredients
Pâte Sucrée Crust

100g (1/2 cup) room temperature butter

40g (1/4 cup) sugar

2 room temperature egg yolks

175g (1 1/8 cup) flour

1 1/2 tsp cold water

Rhubarb Apple Filling

1 1/2 cups peeled rhubarb*

2 Gala apples, peeled and cubed

1 tbsp lemon juice

40g (1/4 cup) sugar

2 tsp cinnamon

1 tbsp butter

Apple Topping

2 Gala apples thinly sliced

1 tbsp lemon juice

cinnamon sugar

Glaze

4 tbsp apricot jam

1 tsp boiling water
Instructions
1
Make Pâte Sucrée: cream together the butter and sugar using a wooden spoon. Should turn light and creamy so put some muscle into it. Beat in egg yolks and gradually add in the flour. Start working the dough with your fingers and add in the cold water. Knead the dough until it forms a ball, the dough should be smooth. Flatten the ball into a disk and wrap in cling wrap. Refrigerate for 30 minutes.
2
Make Filling: Chop rhubarb and put into a medium saucepan with the cubed apples. Add lemon juice, sugar, and cinnamon. Cook over medium heat until rhubarb is soft and mushy. The gala apples won't turn mushy, so I put the filling into a food processor or blender and puree it. Once pureed pour the mixture back into the pot and cook for another minute. Remove from heat and add the butter. Set aside to cool.
3
Preheat oven to 400℉, place a cookie sheet in the oven to heat up. You will be putting the tart onto the cookie sheet to bake. It makes it easier to move the tart pan in and out of the oven without damaging the crust, and it helps the crust to bake evenly.
4
Once the crust has had enough time to chill remove the wrap and place it on a lightly floured surface. This dough is pretty fragile, so you don't want to be lifting the dough to add more flour so make sure to have enough out on your workbench to prevent it from sticking. Roll out the dough into a rectangular shape(or round, depending on your tart pan) just a bit bigger than the pan.**
5
Gently lift the dough and work it into the tin. Prick the bottom of the tart shell with a fork, so no bubbles form, line with parchment paper and fill with baking beans or beads (see picture below). Place into the oven on the baking sheet and bake for 15 minutes and then remove the parchment and baking beans, and bake for another 5 minutes.
6
While the tart shell is baking thinly slice the two Gala apples and place into a bowl of cold water with a tablespoon of lemon juice added to it. Just before you are ready to top the tart remove the apple slices, placing them onto a paper towel and pat dry.
7
Once you have removed the tart shell from the oven, fill with the rhubarb apple filling. Begin placing the apple slices on top of the filling; see picture below for pattern. Sprinkle the top with cinnamon sugar.
8
Bake tart for 25 minutes. Remove from oven and let cool.
9
Make Apricot Glaze: Push the apricot jam through a sieve into a small bowl. Mix in the tablespoon of boiling water. Apply glaze with a pastry brush just before serving.
10
Remove tart from the tin. Push the bottom section upwards and using a spatula, or two gently, remove the tart from the base.
Notes
* Peeling rhubarb can reduce the tartness ** if the dough cracks you can easily fix by pushing the pieces back together or patching with an extra bit of dough.
1.Using a wooden spoon or fingers to work the dough together until large clumps form.

2. Once rolled out and line a tart pan, patching any holes or cracks

3. Line the pastry case with parchment paper and fill with baking beans or beads.
Slice two apples thinly.

Arrange apples on the top of the rhubarb filling