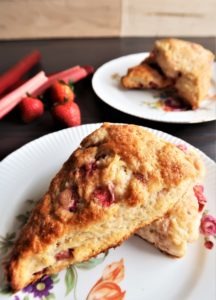 In the summer, I can't get away from using rhubarb and strawberry together. They are the greatest combination ever, right up there with chocolate sauce and ice cream. I wanted to do something a little different with my favourite summer team. Usually, people just throw them together in a pie and pile on the ice cream. Don't get me wrong, I love some strawberry rhubarb pie with ice cream, but it's been done a million times. In the end, I decided to make some Rhubarb Strawberry Scones, and I don't regret it.
The Recipe:
If you look for scone recipes online, you find that a lot of the scones with fruit in them ask for dried fruit. Scones usually request the use of dried fruit because it isn't adding extra moisture to the batter so the scones will last longer. I wanted to use fresh fruits in my scones, but because of this, they only last a couple of days. The scones will be best the day they are baked. If you only want to make a few scones, you can freeze the remainder. Once you are ready to bake the frozen scones pop them in the oven frozen and bake as usual.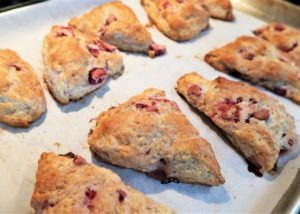 These have turned out to be one of my favourite scone recipes. They are light, a little crumbly, and the fruit makes them sweet and tart. My husband has taken these to work on a couple of occasions, and they don't last very long.  These are the perfect little summer snack, but unfortunately, you will only be able to make them during the spring and summer when rhubarb is in season. I have tried freezing rhubarb, but it doesn't work very well when you thaw it, the rhubarb turns to mush.
Keep in mind is that when you are kneading the dough the fresh strawberries will make the dough stickier. To avoid it sticking to the counter make sure to apply a liberal amount of flour to the work surface and the dough. The proper amount of kneading will make sure that the scones don't spread much. I got some great hints for making scones from King Arthur Flour's website. I hope you enjoy these Rhubarb Strawberry Scones as much as I have. Good Luck and Happy Baking.
Other recipes you may enjoy: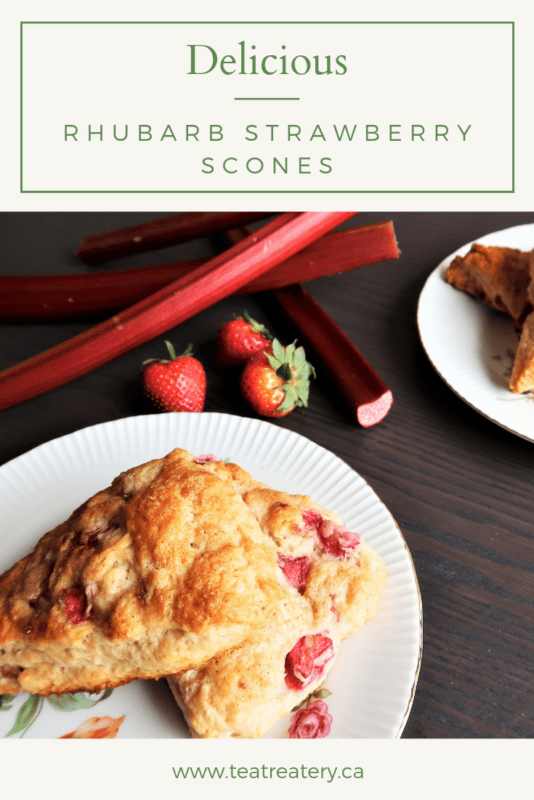 Print Recipe
Rhubarb Strawberry Scones
The perfect combination of rhubarb and strawberry in a soft, crumbly scone. An incredible summer treat, you have to try these Rhubarb Strawberry Scones.
Ingredients
2 1/2 cups (405g) all-purpose flour

3/4 cup (180g) cold butter- cubed

1/4 cup (50g) sugar

2 tbsp (25g) brown sugar

1 tbsp baking powder

1/2 tsp salt

3/4 cup (110g) chopped rhubarb

1/2 cup (80g) chopped strawberries

1/2 cup milk

1/2 cup heavy cream

1 egg
Instructions
1
Measure flour into a large bowl with the cubed butter. Using either knives or a pastry knife cut butter into the flour until it looks like coarse crumbs.
2
Add in sugars, baking powder, and salt. Stir with a wooden spoon.
3
Add in the rhubarb and strawberries, gently mix.
4
In a small bowl beat egg and both milks, add to the flour mixture and stir gently.
5
Turn dough out onto a well-floured surface and knead dough to incorporate the flour. Add more flour as needed to prevent sticking. Knead for two to three minutes.
6
Once everything is mixed well divide dough. For smaller scones divide the dough into three sections, for larger scones cut the dough in half.
7
Flatten dough segments into 1/2 inch thick disks and cut into portions. (smaller scones cut into six sections, larger scones cut into 8)
8
Place scones on a cookie sheet lined with parchment paper. Move the pan into the freezer for at least half an hour.
10
Once the scones have been in the freezer for at least 30 min remove and if you are only baking some, place the remaining scones in a freezer bag.
11
Brush the tops of the scones with heavy cream and sprinkle the top with cinnamon sugar*.
12
Bake for 20-25 minutes or until the tops are golden brown. (if baking from frozen the time will be closer to 25 minutes)
Notes
*I keep a spice jar in my pantry of premixed cinnamon sugar, which is super easy to make up. Simply mix cinnamon and sugar together to whatever your taste is. Usually about 1/2 tsp of cinnamon for 1/2 cup sugar.