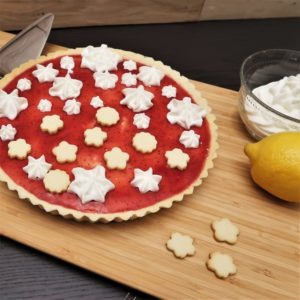 I absolutely love lemon when it comes to baked goods. There were birthdays when I was a kid that I requested Lemon Meringue pie instead of a birthday cake. If it has lemon in it, I will eat it (except if it had coconut, not one of my favourite flavours). Anything from cookies, cakes, tarts, to anything else I could get my hands on, I will eat.
Since we seem to still be neck-deep in winter, I wanted to make something that reminds me of warmth. There is nothing that screams summer flavours, then lemon and strawberry.  So I decided to make my Lemon Cream Tart with Gingered Strawberry Sauce.
Tart Filling Preparation:
I like to use a sweet-tart crust for most of the tarts that I make. It isn't overly sweet, and it has less sugar than a sugar cookie but more than a regular pie crust.  I use this same tart shell for my Rhubarb Apple Tart.
The added sweetness of the crust works well with the tartness of the creamy lemon filling. It took some trial and error to get the filling just right. Lemon is a potent flavour that I didn't want to muddle it up too much.
I used a combination of cream cheese and plain greek yogurt to give the lemon a softer taste.  Adding on the strawberry sauce, it makes for a perfect tart. I use my round tart pan with the removable bottom, but you can use a shallow pie pan as well.
Strawberry Sauce:
I started buying Ginger Beer when I got pregnant. I was looking for a tasty non-alcoholic beverage, so I ended up buying a lot of different brands to find the perfect, drinkable kind. A lot of the brands of ginger beer can be spicy, too spicy for my tastes. I ended up using them in some of my recipes, like my Cranberry Orange Walnut Biscotti.
I liked using it in this sauce because it has a little punch of spicy and adds some sweetness. If you don't have or don't want to use ginger beer, you can use water or orange juice as a substitution. After I cook the strawberries, I blend them to make a smooth sauce. If you want, you can run it through a fine-mesh strainer to remove the seeds. It's a quick and easy sauce that you can use for lots of things, especially ice cream.
I love this dessert, and so do my kids. I have made it a couple of occasions, and it is best served cold. I would even recommend making it the day before you plan on serving it. I like to serve the tart with a big dollop of Whipped Cream.
I hope you enjoy my Lemon Cream Tart with Gingered Strawberry Sauce as much as my family does. Good Luck and Happy Baking.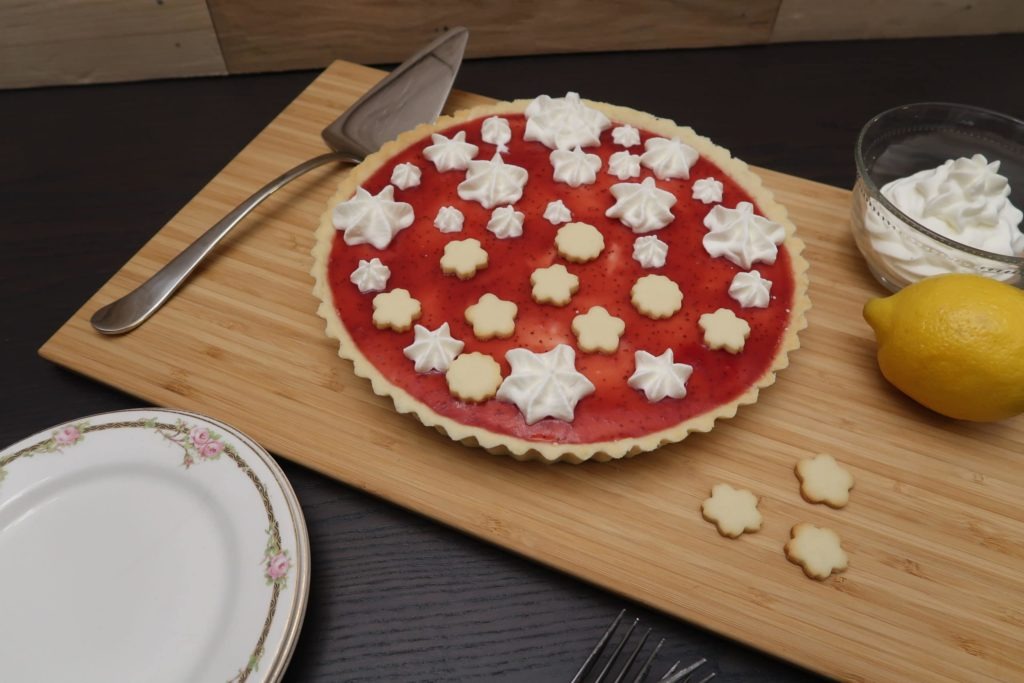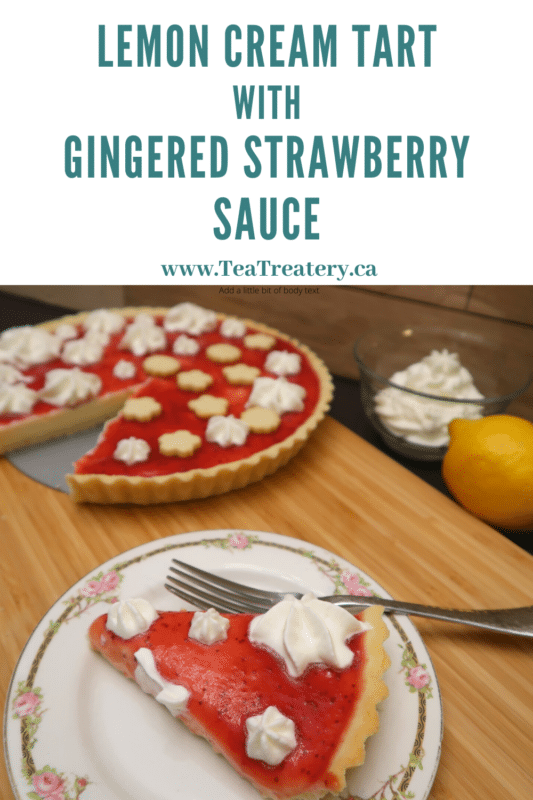 Print Recipe
Lemon Cream Tart with Gingered Strawberry Sauce
This delicious dessert combines the summer flavours of lemon and strawberries. Indulge in this fantastic Lemon Cream Tart with Gingered Strawberry Sauce.
Ingredients
Lemon Filing

2 eggs

3/4 cup (160g) sugar

1/4 cup (27g) corn starch

1/2 cup lemon juice (about 1 lemons worth)

zest of 1 lemon

4 tbsp (50g) room temperature butter

8oz (1 pkg) of room temperature cream cheese

1/2 cup (160g) plain Greek yogurt

1/2 cup (70g) icing sugar

Sweet Tart Shell

1/2cup (120g) butter

2/3 cup (80g) icing sugar

1 tsp vanilla

3 tbsp (25g) ground almonds

1 egg

1 2/3 cup (200g) flour

Gingered Strawberry Sauce

2 cups (300g) frozen or fresh strawberries

3/4 cup ginger beer

1/4 cup caster sugar
Instructions
1
Make Lemon Curd In a saucepan combine eggs, sugar, cornstarch, lemon juice, and zest. Whisk and cook over medium-low heat until the curd thickens. It usually takes about 10 minutes. Stir or whisk continuously to prevent burning or curdling. Once thick, move to a bowl to cool while you make the tart shell.
2
Tart Shell In a bowl mix together butter, icing sugar, and vanilla until smooth and creamy.
3
Add in egg and ground almonds and mix a little before adding in the flour. Stir with a wooden spoon until everything has incorporated. You can use your hand to knead it together if that works better for you.
4
Flatten the dough into a disc, wrap in plastic and refrigerate for 2 hours.
5
Once the dough has cooled roll out on a lightly floured surface, gently place it in the tart pan and work it into the edges. Cut off excess dough and using a fork puncture the bottom to help reduce bubbling. Put into the fridge while the oven is heating to 350℉. While the oven is heating, place a cookie sheet in the oven to heat up.
6
Once the oven is ready, place the tart shell into the oven on the cookie sheet and bake for 15-20 minutes. Remove and let cool.
7
Lemon Filling In a bowl of your mixer beat the cream cheese until it is nice and smooth. Add in the yogurt and the icing sugar and continue mixing over medium speed.
8
Mix in the lemon curd until everything is smooth.
9
Pour filling into the cooled tart shell and put in the oven to help set the lemon filling.
10
Gingered Strawberry Sauce In a small saucepan over medium heat mix together strawberries, ginger beer, and sugar. Let it cook down until the berries are super soft. Place sauce into either a blender or food processor and puree. Place sauce into a bowl or container to cool.
11
Once the sauce has reached room temperature, put some in a piping bag or baggie and cut off the tip. Put a thin layer of the sauce on the top of the tart and save the rest for serving.
12
Let tart set in the fridge for at least 3 hours, but overnight it best.
13
Serve with whipped cream and the extra strawberry sauce.
Notes
I cut tiny flowers out of the leftover dough and baked them for 6 minutes. You can eat them or decorate with them.