This post contains affiliate links. As an Amazon Associate, I earn from qualifying purchases. For more information read my Disclaimer page.
I have a thing for British baking shows, one in particular. It was because of this slight obsession that I came across the cookbook The Great British Bake Off: Puddings & Desserts. There are quite a few lovely recipes housed within this tiny book. One of my favourites, and my family's, is the recipe for Sticky Toffee Pudding. I adapted my recipe from the one I found in the book.
It's a Date:
I understand that dates are a healthy choice for a snack, but they aren't my cup of tea. This recipe calls for 200g of dates, but they are chopped up and soaked in tea. This makes them soft and when baked into the pudding incredibly delicious. My kids would never touch a date on its own, but they love it when I make Sticky Toffee Pudding for dessert. The original recipe just asked for the dates to be soaked in any tea. I found that soaking them in Chai adds so much more flavour to the dessert. I had recently discovered Chai Spice Baking Blend from The Silk Road Spice Merchant. It ended up being the perfect addition to this recipe. If you don't want to hunt down this spice blend, then you can easily use 1 tsp of cinnamon and 1/4 tsp of ground cardamom.
Time to get Saucy: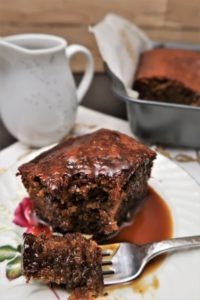 The best part of this whole dessert is the toffee sauce. I was enjoying some TV in the form of Alton Brown's show Good Eats: The Return. He made his own version of a Sticky Toffee Pudding and I liked his addition of some molasses to the sauce. I think it adds a little extra punch of flavour. If you aren't a fan of molasses, the sauce will be just as good without it.
I don't think you will be disappointed by this "scrummy" dessert. I know that my family and I absolutely love this, so we hope you do as well. Good Luck and Happy Baking.
Please don't forget to comment below and let me know how the recipe turned out for you. You can follow me on Facebook or Instagram to stay up to date on what's happening in my kitchen.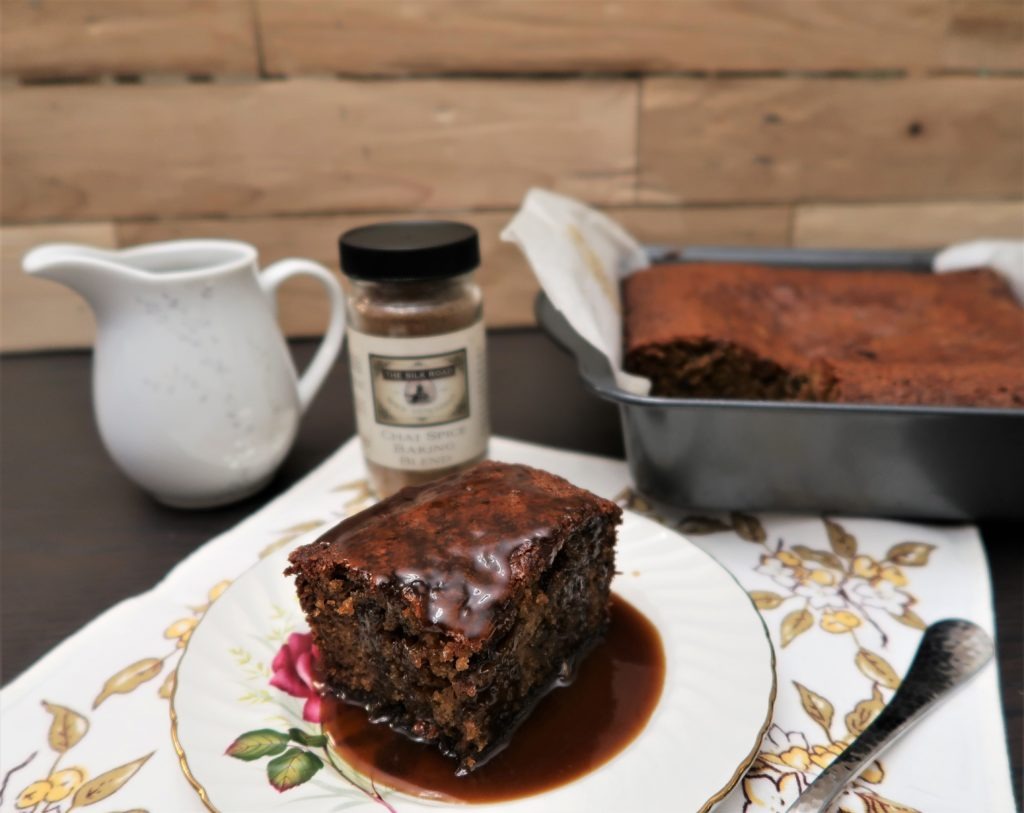 Other recipes you may enjoy: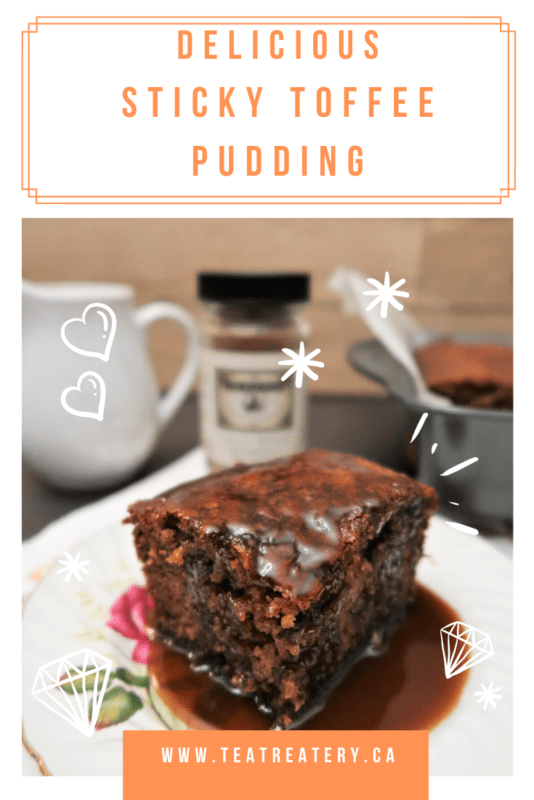 Print Recipe
Sticky Toffee Pudding
Delicious pudding and sweet dates make for an incredible treat. Sticky Toffee Pudding is the perfect dessert that everyone will fall in love with.
Ingredients
1 1/2 cups (200g) dates

175mL hot Chai Tea

3/4 cup (150g) butter

1/2 cup (100g) sugar

1/2 cup (100g) packed brown sugar

3 room temperature eggs

1 1/4 cups (200g) flour

1 tsp Chai Spice Blend*

1 tsp baking soda

1 tsp baking powder

Toffee Sauce

1/2 cup (100g) butter

1 cup (200g) packed brown sugar

2 tbsp molasses

150 mL heavy cream
Instructions
1
Line a greased square baking pan with parchment paper and heat oven to 350℉
2
Steep chai tea in boiling water. You can use either two tea bags or two tbsp loose leaf tea.
3
Chop dates into small pieces and place into a small bowl and pour the tea over the dates. Make sure to remove the bags or strain the tea leaves. Set aside.
4
Cream together the butter and sugars until light a fluffy. Add in eggs one at a time, making sure that each egg has been thoroughly mixed in before adding the next.
5
In a small bowl, whisk together flour, spices, baking soda, and baking powder.
6
Using a spatula, fold the flour into the wet ingredients.
7
Add in the dates and tea into the batter and continue mixing.
8
Pour batter into the prepared pan and bake for 35 minutes. The middle of the pudding will look sunken, but it is a pudding, not a cake, so that is perfectly normal.
9
While pudding is cooking, prepare the sauce.
10
In a small saucepan, melt butter and then add in the brown sugar and molasses.
11
Once the mixture begins to bubble, and you can't see any sugar crystals on a spoon add in the heavy cream.
12
If you plan on serving this immediately poke holes in the top of the pudding and pour half a cup of the sauce it. Save the rest of the sauce for serving. You can also add either whipping cream or ice cream, but we usually enjoy it as is.
Notes
*You can replace with 1 tsp cinnamon and 1/4 tsp ground cardamom