The History of my Rhubarb Cake: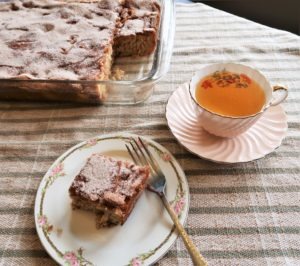 On to my second rhubarb bake for the summer. This rhubarb cake recipe is one that my grandmother used to make all the time in the summer. For me, this cake reminds me of her and the time my siblings and I would spend with my grandparents every summer.
I have no idea where this Rhubarb Cake recipe originated from, but it is still one of my favourites and reminds me of a more carefree time. Everyone in my family has this recipe; it is baked quite often and with great nostalgia.
My grandma always had the habit of "fixing" recipes. In fact, when she passed away, and we got a look at her cookbooks, most of them would have notations written beside some of the recipes. Most of her little notes made no sense to us, but I'm sure she would have known precisely what they meant.
The Recipe:
The Summer Rhubarb Cake is a straightforward recipe baked in a 9×13 pan; my kids like to help me when I bake this cake. This is a summer recipe since it requires fresh rhubarb, and rhubarb does not freeze and thaw very well. I think that since you can only make it during the warmer seasons makes it just that much more special. I make this every summer; actually, I probably make it more than a couple of times during the summer. Good quality cinnamon will help this recipe shine. I use Vietnamese "Saigon" Cinnamon from The Spice Road Spice Merchant.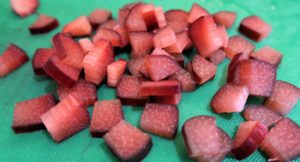 My son often requests this for his birthday cake even though there isn't any icing. I equally love this cake since it is sweet, spicy and just a tiny bit tart. The cinnamon sugar on the top adds that nice little crunch to an otherwise soft, moist cake. It is a hands-down winner in my family, and I hope you all enjoy the Summer Rhubarb Cake recipe as much as we do. Good luck and happy baking.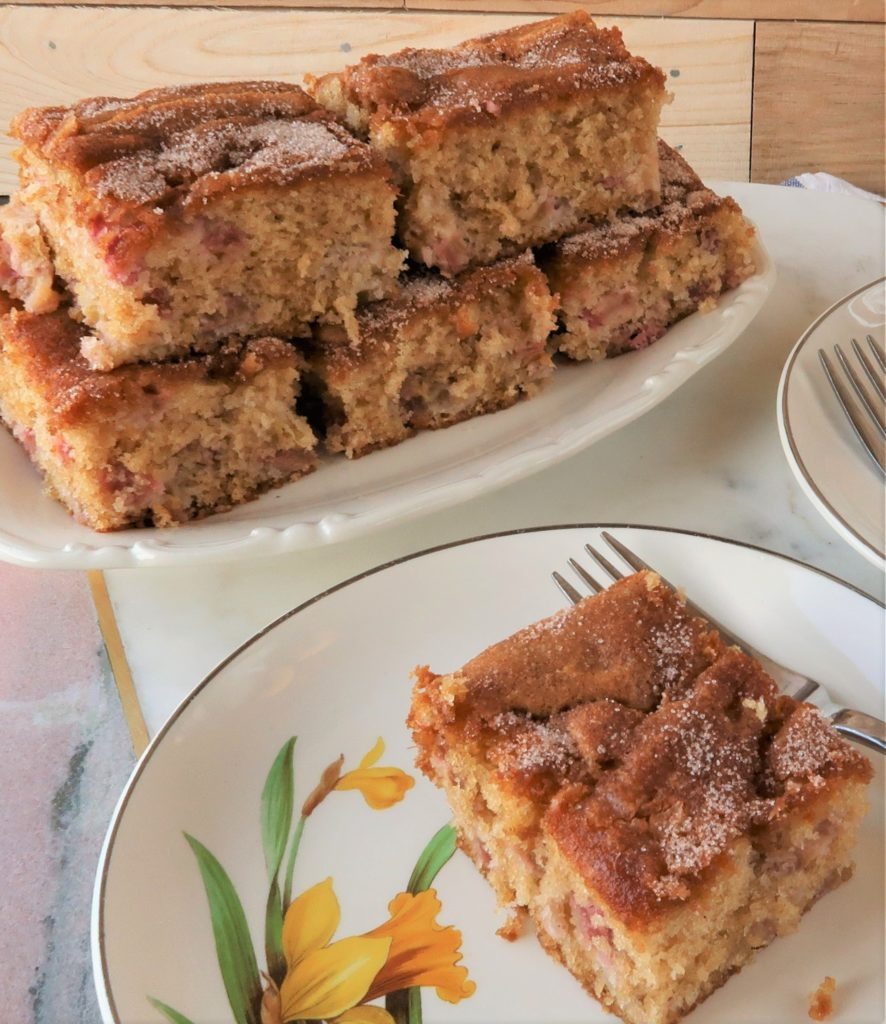 Please comment and let me know how your bake turned out or even post a picture of your finished product. Thank you.
Other recipes you may enjoy: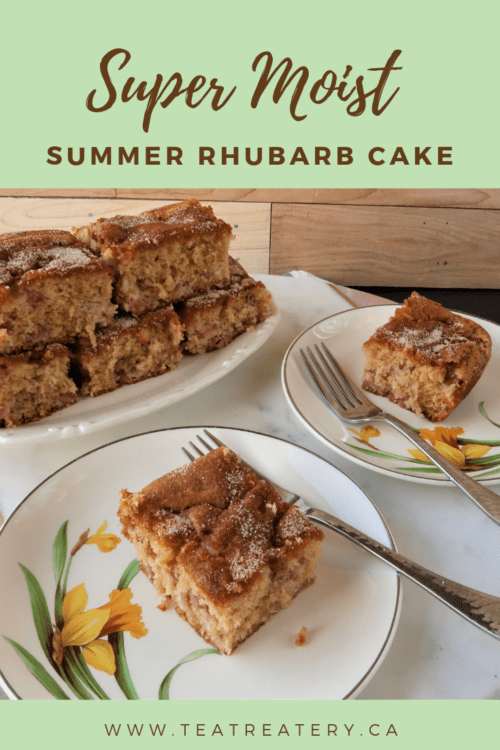 Print Recipe
Summer Rhubarb Cake
Super moist cake with a wonderful mixture of sweet and tartness. It is the perfect summer cake to enjoy anytime.
Ingredients
1 1/2 cups (310g) sugar

1/2 cups (100g) shortening

1 egg, room temperature

1 tsp vanilla extract

1 cup sour milk (buttermilk)*

2 cups (330g) flour

1 tsp baking soda

1 tsp cinnamon

1/2 tsp nutmeg

2 cups (250g) rhubarb (4-5 stalks depending on size)

Topping:

1/4 cup sugar

1/2 tsp cinnamon
Instructions
1
Preheat oven to 350℉ and grease a 9x13 baking pan
2
Chop the rhubarb into small pieces. Larger pieces will end up sinking to the bottom of the pan during baking while the small pieces will stay suspended in the cake.
3
Cream together shortening and sugar in a large bowl or your stand mixer, making sure to scrape down the sides of the bowl. Once the shortening and the sugar are mixed well add the vanilla and the egg. Continue mixing until completely incorporated.
4
In a small bowl whisk together flour, baking soda, and spices. Add half of the flour mixture to the creamed ingredients and continue mixing.
5
Once everything is mixed and smooth slowly add the milk while continuing to mix. Scrape down the sides of the bowl and add the remaining flour.
6
Mix until the batter is smooth, and make sure to give the bowl another scrape down and don't forget to get the bottom of the bowl.
7
Add in the rhubarb and fold it into the batter with a spatula.
8
Once done pour the batter into the 9x13 pan and work the batter into the corners.
9
Combine cinnamon and sugar in a small bowl and sprinkle it on the top of the cake before putting it into the oven.
10
Bake for 35-40 minutes. A toothpick should come out clean when poked into the center of the cake. The top will be crisp when it first comes out, as the cake cools the top will soften.
11
Cut and enjoy. Best served at room temperature.
Notes
* for the sour milk you can either use buttermilk or make your own by adding a tbsp of vinegar to the milk and letting it sit until it is at room temperature. ** Since the leavening for the cake is baking soda and the acid from the sour milk you don't want the batter to sit around for too long so make sure that you have everything ready before you start baking.