This post contains affiliate links. As an Amazon Associate, I earn from qualifying purchases. For more information read my Disclaimer page.
For those of you who don't watch Great British Bake-off, you may not have come across frangipane very often. I love the stuff. The origins of frangipane can be traced back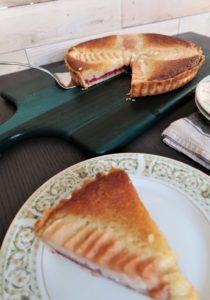 to Italy in the 16th century. It's a tart filling that isn't super sweet and has a lovely flavour to it. The first time I made this Cranberry Pear Frangipan Tart, I added too much filling, and it overflowed. It was a bit of mess, but it still tasted delicious.
The Filling: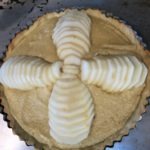 There is something special about the tartness from cranberries and the slight sweetness from the frangipane and pears. This dessert has quickly moved up to the top of my favourites list. Frangipane is a filling made from ground almonds, sugar, butter, and eggs. I add a little honey to my batter to add a bit of sweetness and a little more flavour. I use a piping bag to put the frangipane into the tart shell because the cranberry jam on the bottom makes it impossible to spread. As much as I like using fresh cranberries, they are rather hard to find. Except for around Thanksgiving and Christmas when most people are making turkeys and wanting cranberry sauce. I cook the cranberries and then strain them because the skins give a weird texture to the finished tart. The pear slices are placed on the top of the tart in four halves that have been thinly sliced.
The Bake:
When it comes to baking the tart, I use a round tart pan with a removable bottom, but if you don't have one available, you could make do with a pie dish. It might throw the baking time off a bit since the pie dish would make for a deeper tart. You will be blind baking the tart shell before filling, which means that you will need baking weights of some sort. There are ceramic beads available, but I use dried beans. My Cranberry Pear Frangipane Tart is the perfect seasonal dessert, though it is something you could probably make all year round if you want. Good Luck and Happy Baking.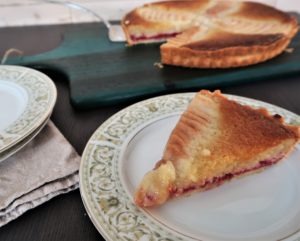 Other recipes you may enjoy: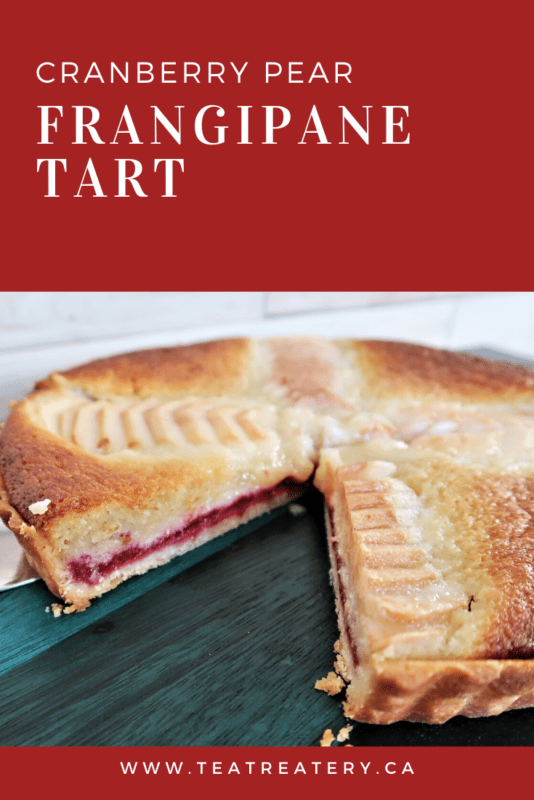 Print Recipe
Cranberry Pear Frangipane Tart
A delicious dessert combining tart cranberries, juicy pears, and crispy baked frangipane
Ingredients
Tart Crust

1/2 cup (120g) softened butter

2/3 cup (80g) Icing Sugar

1 tsp vanilla extract

1 tbsp (25g) ground almonds

1/4 tsp salt

1 egg

1 2/3 cups (200g) flour

Cranberry Jam

1 1/2 cups (270g) fresh or frozen cranberries

2 tbsp lemon juice

1/4 cup (50g) sugar

1/4 cup water

Frangipane Filling

1/4 cup+2 tbsp (100g) softened butter

1/2 cup (100g) caster sugar

2 eggs

1 cup (100g) ground almonds

1 tsp almond extract

1 tbsp liquid honey

2 pears for the top
Instructions
1
Tart Crust: In a large bowl cream together butter, sugar, vanilla, and ground almonds until smooth.
2
Beat in the eggs one at a time.
3
Add in flour and salt. Mix until a smooth dough is formed. You may need to knead by hand to get everything smooth.
4
Flatten into a disk and wrap in plastic wrap. Place into the refrigerator for at least 1 hour or overnight.
5
Roll the dough out on a lightly floured surface until it is just larger than your tart pan.
6
Gently place the dough into the pan and press it into the edges. Using the rolling pin, roll it over the top of the tart pan to cut the excess dough.
7
Stab the bottom of the crust with a fork to prevent bubbling.
8
Put the tart shell into the freezer for 10 minutes; this should help prevent shrinkage during baking.
9
Heat oven to 350℉ and place a cookie sheet into the oven.
10
Place a sheet of parchment into the tart crust and fill with ceramic pastry beads or dried beans.
11
Place into the oven on top of the cookie sheet and blind bake for 10 minutes. Remove the parchment and weights and continue baking for 10 more minutes. Set aside to cool.
12
Cranberry Jam: In a small saucepan over medium-low heat cook cranberries, sugar, lemon juice, and water.
13
Heat until all the berries have burst and the jam has thickened.
14
Strain to remove the skin. Set aside the jam to cool.
15
Frangipane Filling: In a small bowl cream together butter and sugar until fluffy. I use a hand mixer.
17
Using a wooden spoon fold in ground almonds, almond extract, and honey until thoroughly mixed.
18
Assembly: Spread the cooled cranberry jam in the bottom of the tart shell.
19
Place the frangipane filling into a piping bag and cut a large hole in the tip.
20
Pipe the filling in a spiral towards the centre. Using either an offset spatula or knife spread the filling evenly across the tart.
21
Peel the two pears and cut them in half. Remove the seeds and stem. Slice each half into thin slices and arrange on the top of the tart as pictured above.
22
Bake for 40-45 minutes. If you notice it is getting too dark on top before the time is up, cover it with tin foil and continue baking.
23
Let it cool completely before serving.