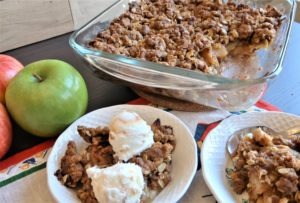 This post contains affiliate links. As an Amazon Associate, I earn from qualifying purchases. For more information read my Disclaimer page.
One of my family's favourite desserts is Apple Crisp. It's something that is super easy to whip up and is always a winner. I also have a lot of great memories wrapped up in it since it was something I learned to make watching my grandma when I was younger. Because of the simplicity of the recipe, she would make this while we were out at our cabin. Anyway, I wanted to share this Apple Crisp recipe just because I love it so much. The apples and spices make this a great fall recipe, but you can do this up any time of the year.
Making the Crisp:
Just like with any recipe I make that contains apples, I like to use more than one type, but this recipe will work with just about any kind of apple you like. Usually, I use a mixture of Granny Smith and Gala because they are great together. If you want to do something different, you can replace the apples with 4 cups of blueberries and have great results. I usually do a Blueberry Crisp in the summer when I can get my hands on fresh wild blueberries. The crisp topping is super easy to make, and if you want to make a more gluten-free version, you can replace the flour with ground almonds.
For baking, I like to use an 8×8 glass dish, but you can use a 9-inch glass pie dish or any deep baking dish that you may have. Just make sure it isn't too large, or you will only have a small layer of apples. It is important to remember that apples shrink when they cook. So it might look like you have a ton of apples, but it'll be more reasonable once it is cooked. I think the best part of this dessert is that you can top it with ice cream (I like a caramel ripple type ice), or whipped cream, or nothing at all.
There isn't a lot to say about this recipe since it is extremely easy to make and incredibly tasty. I hope you enjoy one of our family's favourite desserts. Good Luck and Happy Baking.
Please comment below and let me know how the recipe worked for you. If you want to see what I'm up too in the kitchen, follow me on Instagram or Facebook.
Other recipes you might enjoy: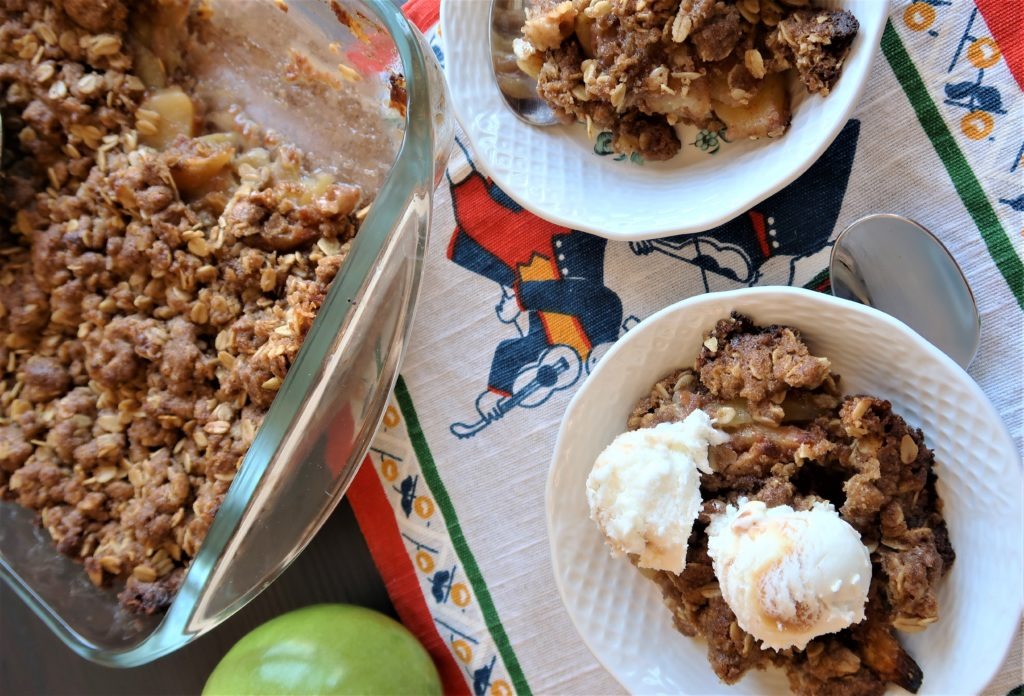 Print Recipe
Apple Crisp
A delicious combination of apples, spice, and crunchy topping that will have everyone wanting more.
Ingredients
5 large apples*

3 tbsp flour

1 tbsp lemon juice

1 tsp cinnamon

1 tbsp sugar

Crumble Topping

3/4 cup (130g) packed brown sugar

1/2 cup (85g) flour

3/4 cup (95g) rolled oats

1/2 cup (130g) room temperature butter

1 tsp cinnamon

1/2 tsp nutmeg

1/2 tsp cloves
Instructions
1
Peel and slice your apples and place them into a medium bowl
2
Add lemon juice, flour, sugar and cinnamon to the apple slices. Stir to coat the apples. Set aside.
4
Grease your baking dish with butter
5
In a medium bowl add in all the crumble ingredients. Using a spoon mix until everything comes together.
6
Place apples into the bottom of the baking dish.
7
Using your hands sprinkle the crumble over the apples making sure to break up the really big chunks of crumble.
8
Bake for 45-55 minutes. The apple filling should be bubbling and the crumble should have browned. Watch the edges for burning.
10
You can wrap up any extras and it will keep for a couple of days.
Notes
*I use 3 Granny Smith, and 2 Gala