Cake is something that can happen at any time of the year; you just need the right recipe. For most people, when they think of fall flavours, they instantly jump to pumpkin spice. For me, the ultimate fall flavours are apple and cinnamon, I use them any chance I get. This apple cake recipe is one of my family's favourites, and since I try to load it with apples, it couldn't possibly be unhealthy…right?!
This apple cake recipe calls for the base of the pan to be layered with apples, which could cause a problem. With the bottom of the pan full of apples when adding the batter, it could fill the whole pan. I recommend lining the entire pan in parchment so that if the cake rises out of the pan, no mess. If you are unsure of how to line your cake pan, you can check out a previous post here.
For the apples, I like to use a combination of apples for different tastes and textures. I usually use Granny Smith for the tartness, but I also like to use Gala apples as well since they are typically in my fridge. This means that some of the apples will remain firm even when cooked while others turn soft. The Gala apples also make sure the cake isn't too tart. You can pick just about any apples to use. Some other apples I've used include Honey Crisp, or Pink Lady's. Another addition I've made to this recipe is to add a little maple syrup drizzled over the top of the apples before I add the batter. I also like to add my next favourite spice: Nutmeg! (has to be freshly grated nutmeg).
The original apple cake recipe comes from one of my more used and abused cookbooks called Mastering the Art of Baking by Anneka Manning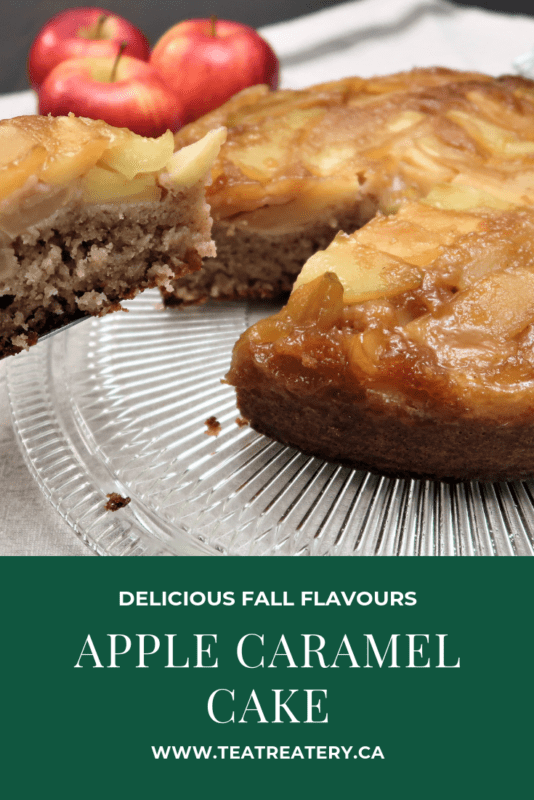 Print Recipe
Apple Caramel Cake
A delicious, moist cake topped with apples and caramel. This will quickly become a family favourite.
Ingredients
75 grams (1/3 cup) light brown sugar

1 Tbsp maple syrup

3 large apples (granny smith, honey crisp, or gala)

1 Tbsp lemon juice

125 grams of room temperature butter

220 grams (1 cup) caster sugar

1 tsp cinnamon

1 tsp nutmeg

1 tsp vanilla

3 eggs at room temperature

150 grams (1 cup) self-rising flour*

35 grams (1/4 cup) all-purpose flour

60 mL (1/4 cup) room temperature milk
Instructions
1
Preheat oven to 350℉. Grease and line entirely an 8 inch round cake pan.
2
Sprinkle the brown sugar over the bottom of the lined pan and set aside
3
Peel and slice apples (doesn't have to be perfectly even slices), place into a bowl and coat them in lemon juice before arranging the apples in the pan. Once the apples have been arranged, drizzle them with maple syrup.
4
Cream together the butter, sugar, and spices until light and creamy. (Can use either a stand mixer or a handheld one)
5
Add vanilla and eggs. Mix in each egg one at a time making sure the mix well before adding the next.
6
Sift together both flours, add half the flour to the bowl and mix. Once incorporated, add the milk making sure to mix slowly and then add the remaining flour.
7
Scrap down the sides of the bowl and mix again.
8
Scoop the batter over the apples and bake for an hour and 20 minutes or until a skewer comes out clean. (each oven is different so set timer for an hour and check before adding more time)
Notes
* You can make your own self-raising flour by adding 2 tsp of baking powder to 150 grams (1 cup) of all-purpose flour and sift together a couple of times.