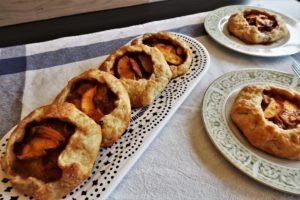 One of the greatest summer fruits is peach. If you get the right one, it 's sweet, juicy, and oh so tasty. Usually, I'm happy to just eat them during the summer months, but you can't make it through summer without baking with them at least once. I chose to make these mini rustic peach pies because it is simple and doesn't interfere with the stunning flavour of the peach. I don't think there is anyone who wouldn't like these little pies.
Peach Pie:
Rustic pies can also be called galettes. They are pies made without the use of a pie dish, and the sides are folded over the filling only leaving a small opening on the top. Pies have been made for centuries and are thought to have originated in early Greece. No matter the origins of pie, it is one dessert that is found just about everywhere in the world in one form or another.
One of the flavours that compliment that of peaches is brown sugar, so I like to add brown sugar into my pie crust instead of white. I also like to sprinkle turbinado sugar, also called Raw Sugar, over the tops of the pie before they go into the oven. The pie filling is very simple, just a mixture of peaches, sugar, cinnamon, and flour. There is nothing complicated about these rustic peach pies.
When you fold the dough over the filling, making sure to pinch the dough to seal it. If you don't seal the folds, there is a high chance that it can open up in the oven.
I hope you enjoy these summer flavours. Please comment and let me know what you think and how your bake went. Good Luck and Happy Baking.
Other Recipes you may enjoy: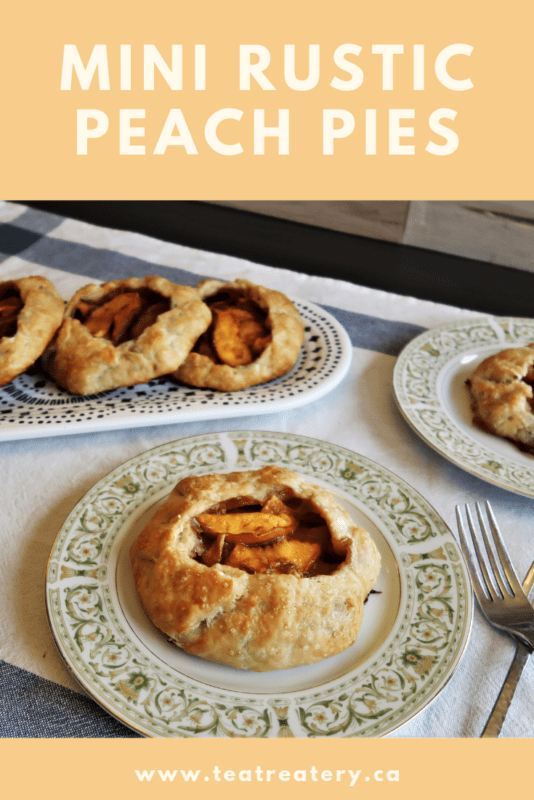 Print Recipe
Mini Rustic Peach Pies
I love the taste of peaches and these mini rustic peach pies are a fantastic way to enjoy to flavours of summer.
Ingredients
Crust:

1 1/4 cup (200g) flour

1 tbsp (30g) brown sugar

1 tsp salt

1/2 cup (120g) cold butter

100ml+2tbsp cold water

Pie Filling:

5 ripe peaches

3 tbsp flour

1/4 cup sugar

1 tsp cinnamon
Instructions
1
To make crust add flour, brown sugar and salt in a medium-sized bowl and whisk it together. Add butter in small cubes and using a pastry knife blend the butter into the flour mixture until it looks like coarse crumbs.
2
Add 100 ml of cold water to the flour and butter mixture and stir it in with a wooden spoon. Add additional water as needed to help incorporate all the flour.
3
Turn dough onto a lightly floured surface and knead until it is smooth. You don't want to overwork it, you want to have those little splotches of butter int he dough.
4
Cut dough into six sections, flatten into small disks, wrap, and place into the fridge for at least a half an hour.
5
To make filling slice 5 peaches in half and remove the pit. Cut peaches into thin slices and put into a medium bowl. Mix in flour, sugar and cinnamon. Set aside while you prepare the dough.
6
Roll out dough until about 1 cm thick and place them onto a cookie sheet lined with parchment paper. Divide the filling between the six pies. Fold up the sides of the dough making sure to seal the dough. Place cookie sheet into the fridge while you preheat the oven to 350℉.
7
When the oven is ready brush the pies with milk and sprinkle with turbinado sugar.
8
Bake pies for 35 to 40 minutes until the crust is golden brown.
9
You can eat them hot or cold, alone or with ice cream.