Journey to my Vanilla Scones: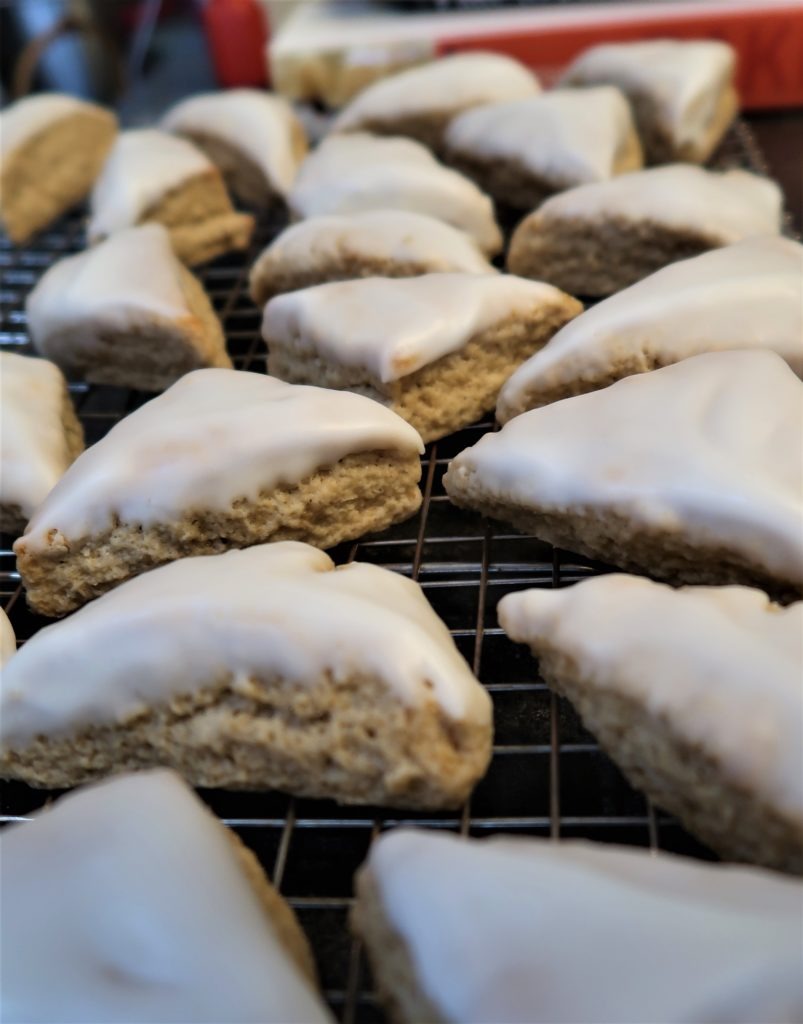 Once upon a time, I worked at Starbucks and really loved their tiny little Vanilla Bean Scones. I had to figure out how to make my own little bundles of deliciousness to savour with a nice cup of tea during my quiet times. That's a lie; I never have a "quiet time." I try to ignore the constant stream of "Mom?", "mom!" "Mom, mom, mom" for a couple of minutes. So that meant I had to get to work. The job was to figure out how to get what I wanted and make my own recipe for vanilla scones.
Trial and Error:
I had to try a lot of different ingredients and techniques. I had to read a lot of different scone recipes to get what I wanted out of mine. It had to be super tasty, not too dry and crumbly, just the perfect little scone. I love vanilla, and I love spice, and I wanted to make a scone that had just a hint of both. It was just a question of how to do it. It took some time and patience, and a pile of tester scones that my family was more than happy to eat for me. In the end, I finally had had the perfect Vanilla Bean Chai Tea Scone recipe.
For the recipe, I recommend that you use a good quality Chai Tea. The one I used was Saigon Chai Tea from Davids Tea. I also recommend using pure vanilla extract over the imitation stuff; there is a definite flavour difference between the two. The recipe does ask for Vanilla Bean Paste, and I do recommend using it if you can. If you can't get your hands on it, you can use extract.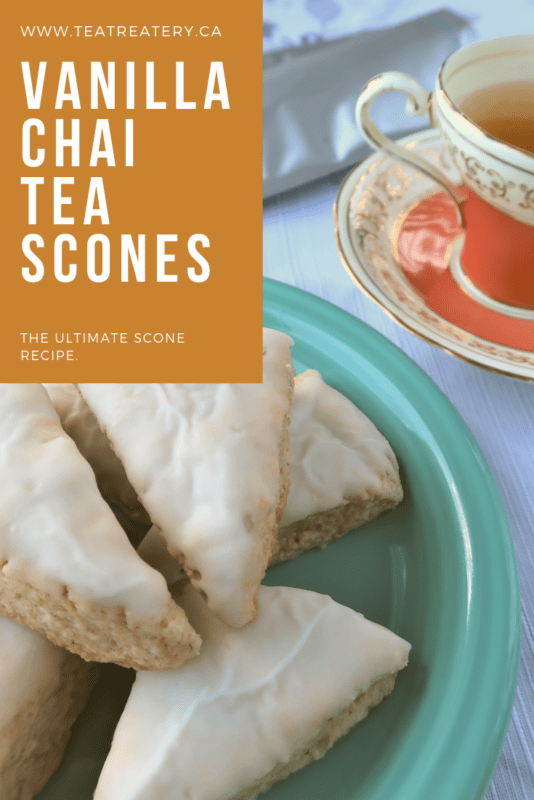 Print Recipe
Vanilla Chai Tea Scones
Scrumptious scones with a light flavour of Chai Tea and Vanilla. The perfect little treat with a warm cup of tea or even on its own.
Ingredients
2 cups (310g) flour

6 tbsp (82g) sugar

2 tsp baking powder

1/2 tsp salt

3/4 cup heavy cream

3 tbsp Chai tea

1 egg

1/2 tsp vanilla bean paste (can use 1 tsp vanilla extract)

6 tbsp (90g) cold butter

VANILLA GLAZE:

3/4 cup icing sugar

1 tsp vanilla extract or vanilla bean paste

2 tbsp+ heavy cream
Instructions
1
Heat the chai tea in a small saucepan over low heat until fragrant (should just be a couple of minutes) then add heavy cream. Steep milk and tea over low heat for 10 minutes stirring occasionally to prevent burning.
2
Once done strain the milk to remove the tea, make sure to press down on the tea leaves to remove as much milk as possible (you will end up with a little less milk than you started with but that's fine). Place in the fridge to cool.
3
Mix together in a medium bowl flour, sugar, baking powder, and salt. Whisk them together to remove any lumps.
4
Add egg, vanilla, and the chai tea milk together in a small bowl and whisk, place back into the fridge.
5
Cut butter into small cubes and add to the flour
6
Using a pastry blender or two knives cut butter into the flour until it resembles coarse crumbs
7
Add in milk mixture and stir into the flour. Once it has been mostly incorporated turn out mixture onto a lightly floured surface and knead until it all comes together.
8
Roll out dough or push down with your hand to make a 10x10 inch square. Cut the dough into 12 squares (4x4) and then cut each square into triangles to make 24 triangle pieces (if you want large scones you can cut them into 9 squares to make 18 triangles)
9
Place scones onto a parchment lined baking pan leaving a little room because they will spread a little. Place pan into the freezer for 30 min.
11
Remove tray from the freezer and brush the tops with heavy whipping cream
12
Bake for 14-16 minutes or until the tops are golden brown
13
Let scones cool completely before you glaze*
14
Add vanilla and a tablespoon of heavy cream to the icing sugar and mix. Add heavy cream until you have the right consistency. You want the glaze to ribbon when you scoop out the glaze and let it fall back into the bowl.
Notes
* you can either glaze the entire top of the scones or drizzle it on
Heat Chai Tea in a small saucepan

Brush the tops of the scones with Whipping Cream